10 Best Forex Signals Providers in 2023
In this article, we're going to rank and review the best forex signals providers in 2023.
Forex signals are a way for traders to increase the returns that they are able to generate trading the forex exchange market. These signals are released by a team of expert traders who specify which pairs you should buy and at which specific price. Individuals are effectively outsourcing the time-consuming process of following and keeping up with the market and are still generate attractive returns, while traders benefit from offering their advice (in the form of signals) to subscribers for a small fee. It's a win-win if you join the right group.
Ranking Best Forex Signal Providers
There are several profitable forex signals groups that you can follow, but also unprofitable ones for you to avoid. Most forex signals providers share their signals via the app Telegram, and because anyone can create a Telegram signals channel and charge for their trading signals, it's hard to know who are professionals and who are just trying to make some extra income without delivering real results. We're here to help — we've taken a look at all the forex signals providers, compared their results, and ranked them for you so that you can be sure you're not only avoiding the poor groups but also getting the most from your investment.
However, before we get into the rankings, let's take a closer look at exactly what forex signals are and how you can use them to make a profit.
What Makes for the Best Forex Signals?
As I mentioned above, the best forex signals providers predominantly operate as telegram groups that have thousands of members, all of whom are following the trading team's signals. When the signal provider is ready to issue a trade, they will send out a notification that looks like this: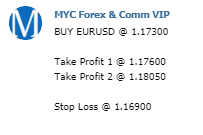 The call tells you what forex pair to buy, whether to go short or long, along with the take profit targets, stop loss target. If you have a good forex signal provider that knows what they're doing, then you should hopefully make an excellent return:

There are three main features all of the best forex signals providers share: they are run by professional traders, they prioritize quality of signals over quantity of signals, and they allow you to auto-follow their trades.
This means that instead of you sitting at your computer or phone waiting for a signal to come in and execute a trade, you can install a trading bot to automatically follow the trade exactly as it's been issued in Telegram.
Paid vs Free Forex Signals: Which One Should You Choose?
Forex trading signals are valuable tools that can assist traders in making informed decisions in the volatile forex market. These signals provide insights into potential trading opportunities, helping traders identify entry and exit points. However, when it comes to choosing between paid and free forex trading signals, there are important factors to consider.
Paid Forex Signals
Paid forex signals are typically provided by professional traders or signal service providers who have a track record of success. Here are some advantages of opting for paid signals:
Reliability and Accuracy: Paid signals often come from experienced traders who have spent years analyzing the market. Their signals are backed by thorough research and technical analysis, increasing the probability of successful trades.

Additional Analysis and Insights: Paid signals often include detailed analysis and reasoning behind each recommendation. This allows traders to understand the rationale behind the trade setups and learn from the professionals.

Customization and Flexibility: Paid signal services often offer different subscription packages, allowing traders to choose the level of service that suits their needs. Additionally, they may offer signals for specific currency pairs or timeframes, enabling traders to focus on their preferred trading strategies.

Support and Education: Some paid signal services provide additional educational resources, such as webinars or trading courses, to further enhance traders' knowledge and skills.
However, it's important to consider the potential drawbacks of paid signals as well:
Cost: As the name suggests, paid signals come with a cost. Traders need to evaluate whether the potential benefits outweigh the subscription fees.

Reliance on Third Parties: Subscribing to paid signals means relying on someone else's expertise. Traders must carefully choose reputable signal providers and consider diversifying their sources of information.
Free Forex Signals
Free forex signals are widely available on various platforms, social media channels, and online communities. Here are some advantages and considerations of using free signals:
Cost-effective: Free signals provide an accessible starting point for traders who may not have the budget for paid services. It allows them to test the waters and gain exposure without financial commitment.

Diverse Sources: Free signals are available from various sources, including individual traders, forums, and social media groups. This diversity can provide different perspectives and trading ideas.
However, there are potential drawbacks to be aware of when relying solely on free signals:
Quality and Accuracy: Free signals may lack the same level of reliability and accuracy as paid signals. It is crucial to analyze the track record and performance of the source before basing trades solely on their recommendations.

Lack of Analysis and Education: Unlike paid signals, free signals often come without detailed analysis or educational resources. Traders may miss out on learning opportunities and fail to develop their own analytical skills.
Choosing the Best Forex Signal Provider
Ultimately, the choice between paid and free forex trading signals depends on individual preferences, budgets, and risk tolerance. Paid signals offer reliability, analysis, customization, and educational support, but they come at a cost. Meanwhile, free signals provide a cost-effective starting point, but traders must exercise caution and conduct thorough research.
Regardless of the type of signals chosen, it is important for traders to remember that signals should supplement their own analysis and should not be relied upon blindly. Developing a solid understanding of the forex market, risk management principles, and trading strategies is essential for long-term success.
Now that you understand what forex signals are and how subscribing to one can be incredibly lucrative, let's get into our list on the 10 best forex signals groups.
1. MYC Forex & Commodities Signals (@MYC Signals)
When it comes to producing forex signals, MYC Signals is the best forex signals provider that the space currently has to offer. With a focus on helping their members generate sustainable returns, MYC Signals' approach is all about consistency. This means that you can reliably predict how much returns you can expect to generate from being a member of their group.
However, they don't just provide forex signals, they also provide signals for commodities such as oil and gold, something that very few other groups offer. This combination of both forex and commodity signals mean their members get a lot more value.
In addition, MYC Signals also post daily market and technical analysis updates so their members fully understand the decision behind every trade so they themselves can become better traders. Furthermore, their signals can be followed using common brokers and platforms such as IC Markets and Oanda.
If you want to join their group and begin your journey of generating income from their forex and commodity signals, then here's how you can get started with them:
1) If you have telegram be sure to reach out to the admin, @MYCSupportBot, as well as to join their free forex signal group, MYC Forex & Commodities. In this group, you will receive completely free forex and commodity signals so you can see the quality for yourself. Alternatively, if you don't have Telegram, feel free to contact them via email: [email protected] and they'll walk you through how to get started.
2) They offer their premium channel: MYC Forex & Commodities VIP for you to join. The membership can be paid via any cryptocurrency of your choice or via card over at their payments page.
3) Once you're all signed up and are a premium member, they'll work with you to make sure you can follow their signals as easily as possible, as well as to solve any problems you may have. They tout 24/7 customer service so regardless of which time zone you live in, you can be sure that you'll get a prompt response.
Learn2Trade has firmly established itself as the premier forex signals provider in the market today, backed by over a decade of operational experience and a robust community of 70,000 members. The substantial user base serves as a testament to the trust and reliability Learn2Trade has cultivated over the years.
One of the key strengths of Learn2Trade lies in the comprehensive information accompanying each forex signal. Users receive clear instructions, including the specified currency pair (e.g., GBP/USD), whether to go long or short, and the recommended limit order at their chosen forex broker. Additionally, every signal is accompanied by stop-loss and take-profit order suggestions, promoting a responsible and risk-averse trading approach.
Learn2Trade offers two distinct options for users seeking profitable forex signals. The first is their free forex signals group, which provides three signals per week without any crucial information blacked out. Unlike other free providers that limit access to vital details unless users pay, Learn2Trade prioritizes transparency by revealing all relevant data.
For traders with a more active approach, the premium channel offers an attractive solution. With 4-5 forex signals provided daily, day traders can take advantage of a higher frequency of investment opportunities.
When it comes to pricing, Learn2Trade offers various packages catering to different needs. The monthly plan is priced at £40, while the three-month plan is available for £89 (£30 per month). The most cost-effective option is the 12-month plan, priced at £215, equating to a remarkably low monthly rate of £18. To further instill confidence in their service, Learn2Trade extends a 30-day money-back guarantee to new customers signing up for a premium plan.
With a considerable user base and a notable 4-star rating on TrustPilot, with the majority of reviews awarding 5 stars, Learn2Trade has demonstrated its commitment to customer satisfaction. Moreover, Learn2Trade expands its offerings to include digital asset signals, providing separate plans for cryptocurrency enthusiasts. In addition to their signal services, Learn2Trade also provides an abundance of free educational guides and a comprehensive forex course, further enhancing their value proposition.
In summary, Learn2Trade emerges as a reputable and transparent forex signals provider, delivering valuable options for both free and premium users. With their extensive experience and dedication to customer success, Learn2Trade is an excellent choice for traders looking to enhance their forex trading strategies.
3. ForexSignals.com
ForexSignals.com has established itself as a prominent player in the forex signals market, particularly catering to newcomers with limited trading experience. A standout feature of ForexSignals.com is its extensive collection of educational resources, specifically designed to empower beginners and elevate their trading skills.
When it comes to the signals themselves, ForexSignals.com offers a subscription-based membership plan. The platform provides multiple packages, and as of writing, it advertises a 50% promotional discount. This reduction lowers the monthly plan from €104 to €52. For those opting for the 12-month plan, the cost is €240, equating to a monthly rate of €20.
For users seeking a trial period, ForexSignals.com offers a free seven-day trial to test out their services. Regardless of the chosen plan, members gain access to the trading room, daily live analysis sessions, weekly hot-pick selections, and interactive live workshops. Additionally, the platform provides a real-time global news team and grants access to professional trading tools.
ForexSignals.com has positioned itself as a reliable choice for beginners, offering educational resources and a comprehensive suite of features within its membership plans.
4. Pips Alert
Pips Alert is a reputable forex signals provider that presents two distinct strategies for its members. The first strategy, Venture X, is designed for those seeking slow and steady long-term gains. It aims to achieve monthly profits ranging between 1.5-3.5k pips. The second strategy, Investor X Signals, adopts a short-term approach to forex trading.
Both plans offer members 15-20 forex signals per week at a monthly cost of $59.95. Pips Alert also stands out by providing a 14-day money-back guarantee. This allows new customers ample time to evaluate whether the provider aligns with their specific trading objectives.
5. PipChasers
PipChasers is a noteworthy forex signals provider that should be considered. With access to 20 forex and metals pairs, it caters to traders interested in both currencies and commodities. Having been in the industry for seven years, PipChasers sets an ambitious monthly profit target of 2,000 pips.
PipChasers offers two plans to choose from. The flexible plan costs £79 per month and allows for cancellation at any time. Alternatively, the lifetime package provides unlimited access to PipChasers for £390. Both options include 5-9 signals per week, encompassing both short and long-term strategies.
With signals ranging from same-day trades to positions held for weeks, PipChasers ensures versatility. The platform offers 24/7 customer support and delivers signals via Telegram. Notably, each signal includes a single take-profit target, making it particularly suitable for beginners.
6. The Forex Institute
The Forex Institute, with its professional name, aims to elevate the standard of professionalism in the forex industry. With a strong commitment to delivering high-quality signals and technical analysis, they have positioned themselves as one of the notable forex signal providers.
Although relatively new, The Forex Institute has been rapidly growing, indicating a trustworthy and reliable group. They share 1-2 signals daily, catering to traders seeking consistent opportunities. Additionally, they offer money management services for individuals who prefer not to trade their own funds.
For those in search of top-notch forex signals, The Forex Institute can be considered a reliable and dependable group, showcasing their dedication to excellence in the industry.
7. FxPremiere.com
With over 12 years of experience in the market, FxPremiere has been offering Forex signals since 2010. However, it's important to note that FxPremiere is not operated by a team of financial analysts. Instead, they serve as an intermediary, sourcing signals from over 50 different Forex signal providers online. These signals are then shared with their premium members, with packages starting from $37 per month. By doing the heavy lifting and analysis, FxPremiere aims to save traders time and effort.
FxPremiere is committed to the satisfaction of their traders and continuously seeks to enhance their services. They are open about their practice of recruiting more professional and experienced FX trading analysts based on demand and supply. By partnering with top-rated FX signal providers like FxPremiere Group, subscribers can expect reliable and high-quality signals, minimizing frustration and maximizing potential trading opportunities.
8. Zulutrade
Zulutrade is renowned as one of the largest communities for copy-trading and forex signals worldwide. Licensed and regulated in Europe and Japan, Zulutrade offers a unique service that enables traders to connect their existing broker accounts and copy any trader within the community, typically by paying a small fee (usually 20%) from the generated profits.
The ZuluTrade platform serves as a social and copy-trading online platform, allowing users to replicate the investment strategies of trading "experts" in forex markets. The user base is divided into two main categories: signal providers and followers. Signal providers share their developed strategies for followers to copy, while followers can also mimic the portfolios created by other followers. The compensation fees for signal providers are based on the success and popularity of their trading strategies.
The platform incorporates various features, including ZuluGuard, which automatically stops following a signal provider if their trading strategies change. Lock Trade enables users to verify trade execution after receiving signals. The platform also includes social network-like elements such as comments and forums.
ZuluTrade offers ZuluScript, a feature allowing users to create scripts that set specific parameters as criteria for trading robots, commonly known as "Expert Advisors," to automatically execute trades. Additionally, ZuluTrade operates a social trading platform for binary options.
Zulutrade provides rankings of investor performance, enabling users to observe and copy other traders' portfolios instantly. The simulator feature displays overall profit, alerts users of margin calls, and even allows users to download a spreadsheet of all simulated trades for further analysis.
9. Pip Prophet
With an apparent prophetic ability to find optimal trades and therefore secure lots of pips, Pip Prophet is another high-quality forex group currently operating in the forex signal space. They certainly aren't one of the larger groups, but their loyal following is an indication of the quality of the signals that the group releases.
They post ample technical analysis charts with clear and simple explanation as to why they may or may not take a certain trade. They have great customer support who are willing to answer any questions you may have regarding their pricing plan or just more generally the wider forex market.
Due to this focus on quality they could certainly release more signals, however, the few signals that they do release tends to perform well so members cannot complain.
10. SSJ Forex Signals
The key word to describe SSJ Forex Signals is that they are a group who go for volume of signals. With an estimated 4 to 7 signals per day, you won't be short of signals to choose from. Obviously, this violates the advice I gave earlier that you should look for quality over quantity. And for SSJ Forex Signals, it's this volume that sometimes is the group's downfall. When posting such a large number of signals on a daily basis, it's only inevitable that the quality suffers from time to time hence why they are appearing slightly lower down on this list.
Furthermore, it means that the group spends very little time educating members by posting useful charts or trading tips because so much of the team's time is spent looking for signals. However, some members prefer this style as they are able to decide for themselves if or not to follow the signal.
Conclusion
There are many, many forex signal providers to choose from, and we have introduced you to some of the best forex signals groups that are currently out there. Paying for signals is a great investment, but only if you know that you are going to get good signals. Selecting one of our picks for the best forex signals groups will not disappoint.
The use of forex signals by traders to increase their potential returns is becoming more and more popular. This combined with a reliable forex signals provider can result in you being able to generate very consistent and reliable returns. Want to learn more about forex signals? Check out our complete beginner's guide! Happy trading!