5 Best Crypto Signals Groups On Telegram in 2023
I recently went on a mission to find the best crypto signals groups on telegram. An active crypto enthusiast, I wanted to see firsthand what the experience was like signing up to receive paid signals from professional traders. I was particularly curious to learn about the sign up process, the frequency with while signals were posted, and of course, whether the signals were in fact accurate and lucrative.
Crypto signals are becoming an increasingly popular subsection of the cryptocurrency trading community. I knew a little bit about the initial crypto signals group sign-up process… When I joined a signals group, I would receive signals, or trades, from a team of expert traders who research trades then tell you exactly what cryptocurrency to buy and when to sell. My goal was to effectively outsource the work of following and keeping up with trades and make substantial returns in the process. And I knew from friends that the typical sign-up process would include the following steps…
Join a free crypto group on Telegram.
Follow the group's free trade signals to get a sense of their style and success rate, and then, if I liked what I saw in the free group, I would…
Ask the the group's support team to join the paid Telegram group.
Complete sign-up process to receive paid signals; make sure trades are set to auto-follow.
I've heard for a while now about the remarkable success of crypto signals, so I was eager to get started once I knew this was something I wanted to do. However as soon as I started looking to joining crypto groups on Telegram, I was overwhelmed by the shear number of options and perhaps more surprisingly, the number of the groups claiming to be the best, offer the best returns, and guarantee my success. It was clear to me that a number of these groups where not going to live up to their promises, and that needed to add a new #1 step to my sign up process:
Research which groups were most trustworthy and THEN…
Join a free crypto group on Telegram.
Follow the group's free trade signals to get a sense of their style and success rate, and then, if I liked what I saw in the free group, I would…
Ask the the group's support team to join the paid Telegram group.
Complete sign-up process to receive paid signals; make sure trades are set to auto-follow.
This is one of the primary areas of focus for this article: share the results of my research with you so that you can benefit from what I discovered are the most trustworthy crypto signals groups on Telegram.
I also want to highlight this fourth step — having a good exchange with a real human during the sign up process, while a bit cumbersome, is essential. I wanted to be sure that every crypto signals group I was paying to join was legit. Not a scam website or group with a payment page and nothing more. I've heard horror stories from friends who signed up for a group's paid signals, but never get anything. Or worse, the signals they get are complete bogus. So by reaching out to the a signals group's support team, I knew I'd be more likely to weed out the fake groups. When A support member got back to me promptly and professionally, I knew the group was real.
Without further ado, where is what I discovered are the best crypto signal groups on Telegram.
The Top 5 Crypto Signals Groups
MYC Signals comprises of a team of expert cryptocurrency traders with over 5+ years of experience. With more than 2000 paid members, MYC Signals places a large emphasis on quality, professionalism and customer service – something which no other crypto signals group do.
MYC Signals provide high-quality signals for range of cryptocurrency exchanges including: BitMex, ByBit, Deribit, Binance, Bittrex, Huobi Pro and Bitfinix. Here's how I got started with them below:
Getting started with MYC Signals:
1) Reach out to their admin via Telegram, @MYCSupportBot, as well as to join their free crypto signal group, MYC Signals. Alternatively, if you don't have Telegram, feel free to contact them via email: [email protected] and they'll walk you through how to get started.
2) I decided to join both of their premium channels: MYC BitMex Signals VIP and MYC Binance Futures Signals VIP. And I chose to pay for me membership via Bitcoin, but they'll accept any cryptocurrency of your choice or credit card over at their payments page.
3) Once I was all signed up and a "premium member", the MYC customer service team reached out to me to make sure that I was all set and ready to receive their signals. I was pretty pleased with this kind of support during my onboarding process. I didn't have to take advantage of their support beyond the initial sign up, but it was reassuring for me to know that they tout 24/7 customer service so regardless of my time zone I know I'd get a prompt response.
CTT (Crypto Trades Today) is a solid group that provides crypto signals for those who trade on BitMex and Binance. 
CTT just launched in 2022, and although fairly new, they are already making huge waves and chatter across the crypto signals space. I was a bit skeptical of this group initially because they were so new, but decided to give them a try in the spirit if research… and I could not have been more glad that I did!
The reason was simple: they provided me with some of the best returns I saw and their subscription plans (starting at just $80 per month) are among the most affordable I saw across all the competition.
Their free public channel is very beginner-friendly, providing fresh crypto news, as well as education (crypto terms) and inspiration (quotes).  I also loved their technical analysis for its balance and neutrality, always taking into consideration different possibilities and discussing the scenarios that can unfold from each one.
Founded in 2016 by four experienced hedge fund traders, MyCryptoParadise offers top-tier crypto signals. Their combined 35 years of technical and analysis expertise have earned them a reputation as one of Telegram's best crypto signals providers.
Members gain access to consistent and reliable signals across market cycles. MCP offers five membership plans tailored to exchange needs. While some plans are sold out, options like Binance ParadiseVIP, KuCoin ParadiseVIP, and BTC & ETH ParadiseVIP are available at $999/month. VIP members enjoy additional benefits such as personal coaching, private portfolio building, and trading strategy sharing.
Notably, MyCryptoParadise stands out for its cautious trading approach, focusing on a strict risk/reward ratio with signals falling within the 70–95% accuracy range. Monthly performance reports ensure transparency and help new members understand market conditions. If you seek professionals who prioritize your capital and provide profitable insights through timely market analytics, consider joining MyCryptoParadise as a VIP member, even at this steep price point.
Universal Crypto Signals, established in 2018, initially offered free crypto signals on their Telegram channel. Recognizing their exceptional accuracy and efficiency, they introduced premium channels to assist members in achieving their short-, medium-, and long-term portfolio growth goals.
Their services include:
Guiding members on optimal buying and selling times for BTC and altcoins.
Providing crypto signals for a wide range of trading pairs.
Offering timely portfolio management advice based on market conditions.
Identifying undervalued crypto projects with long-term profitability potential.
Universal Crypto Signals has integrated their trading signals with an auto-trading bot, similar to cornix.io, enabling automatic trading for their members.
Beginners can access crypto signals on their free Telegram channel to test their impressive 95% accuracy level. However, for the best profit opportunities, they offer paid plans which ranges from budget-friendly ($66 per month) to fully-automated ($1,200 per year).
For traders seeking the most accurate crypto signals, Universal Crypto Signals provides well-structured entries, targets, and stop-loss setups to enhance their trading performance.
Fat Pig Signals, established in 2017, is a trustworthy signals service offering trade signals for various assets, including popular cryptocurrencies like Bitcoin, Ethereum, Litecoin, and Cardano. The team comprises seasoned traders with extensive experience in the industry.
What distinguishes Fat Pig Signals from other daily trading alerts is their highly informative free group. In addition to providing trade signals, the group offers valuable market analysis and recommendations for risk management. This allows prospective customers to explore the service and its benefits before making a commitment.
One downside of Fat Pig Signals is that there are a number of copycat groups out there claiming to be the real thing. So if you're interested in signing up to receive crypto signals from this group, make sure you do your homework and sign up for the right one!
Why Pay For Crypto Signals?
Now, because crypto signals are still a relatively new thing, you might not fully know what they are, or why they are worth investing in. Let's take a quick dive into exactly that. For a more in depth guide on crypto signals, check out our ultimate beginner's guide to cryptocurrency signals.
What Exactly Are Crypto Signals?
At a very basic level, crypto signals are simply a set of trading instructions that tell you when to buy and sell a cryptocurrency. For example, if you are receiving bitcoin signals from a signals group on Telegram, their trade signals will tell you exactly when to buy and sell bitcoin.
I quickly learned that the best crypto signals group on Telegram will format their signals in the following way:
Cryptocurrency – you will be told exactly which cryptocurrency you should be buying, for example Bitcoin or Ethereum
Buy – you will be told exactly the price you should be buying
Sell – you will also be told when to sell/exit your position so that you can lock in some profits
Stop Loss – Finally, you will also be told the stop loss of the trade, so that you know when to exit the position if the trade doesn't quite go correctly
The best crypto signals groups predominantly operate in Telegram groups with hundreds of members. When the signal provider is ready to issue a trade, they'll send out a notification that looks like this: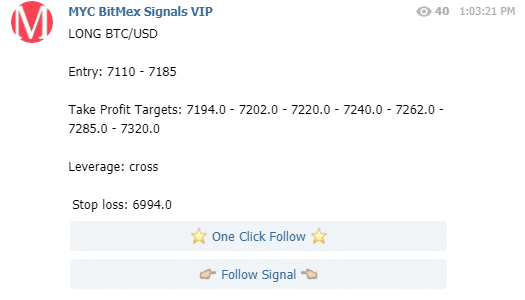 The call in this example are for people who trade on BitMex. The call told me what cryptocurrency to buy, whether to go short or long, along with the take profit targets, stop loss target and leverage amount.
When I found a good crypto signal provider that knows what they're doing, I was able to make an excellent return like this:

Of course, making returns like this is the goal. So w
How the Best Crypto Signals Groups Trade
While reviewing groups, I also found that there were some key differences in how the best crypto groups structured their trades in order to protect losses and make the best returns. Here's how the best crypto signals providers on telegram have become so profitable…
Leverage Trading
The best crypto signals groups will also often trade with leverage, so it's important to understand what this is. Crypto signals groups will use leverage trading because it allows you to make a lot more money than you would be able to with regular spot trading, where it is not possible to trade with leverage. For those that do not fully understand what leverage trading is, let's dive a little deeper.
Now, it's likely that when you first bought your first cryptocurrency, you did it with a regular spot trading account. So, you likely used your own funds to buy your first crypto. However, buying with leverage allows you to use your owns funds on your account balance plus borrowed funds to purchase crypto. Because you can use borrowed funds to purchase the cryptocurrency, you will actually be able to buy more crypto.
From a trading perspective this is great, because if you can buy more cryptocurrency, you can generate a higher return because you are holding more crypto, so your profits are amplified. Some of the best crypto signals groups in the space and traders in general, are increasing the use of leverage due to the higher gains that can be captured with the use of leverage.
Another related concept to leverage that you need to understand is margin. At a basic level, margin is just the amount of funds that needs to be in your trading account to cover any potential losses that you might make. In order to first trade with leverage, you will need to have sufficient margin that will serve as collateral for that leverage trade.
For example, if Alice wished to buy $10,000 worth of bitcoin, but she could only afford to have $1,000 in her trading account, the amount of margin (that $1,000) would still actually be able to support and make it possible for her to 'borrow' that extra $9,000 to do some leverage trading. The $1,000 in her account would serve as sufficient collateral for her to hit that $10,000 mark.
For example, if we assume that the price of bitcoin hits $11,000, and Alice had bought 1 bitcoin at $10,000, this would be a return of 10%, not too bad. But, if Alice had bought with leverage, let's say using a leverage ratio of 1:10, a price movement from $10,000 to $11,000 would yield a much greater percentage return of 1,000%.
Despite the enormous gains that could be made with leverage trading, it's important to understand that it can also be risky. Trades can go wrong, and in Alice's case, if the price of bitcoin fell to $9,000, Alice would have lost her entire $1,000 margin. This is known as being liquidated, and the price at which leveraged trades get liquidated will differ depending on the exchange. So, it's important to be familiar with the concept of liquidation before placing any leveraged trades.
The best crypto signals groups on Telegram use leveraged trading in a smart way that bring greater returns to their members.
Cross and Isolated margin
Now that you understand what leverage and margin are, it's time to introduce you to the concept of cross and isolated margin. As we have already mentioned, margin is simply the initial amount of money that needs to be held in your trading account to cover any possible losses that you might incur. But, these losses can be covered in different ways, and we will talk about 2 of those ways: cross margin and isolated margin.
Cross margin allows you to effectively use your entire account balance as collateral for leveraged trades. Whereas with isolated margin, it's just the initial margin in your trading account that you use that will be used to cover any losses. In other words, isolated margin means that the full amount of funds in your account is not used for any leveraged trades that you make.
Going Long & Short
One of the key advantages of using leverage trading is that you will be able to go both long and short on any trades that you decide to enter. Regular spot trading would not allow you to take short positions, which is very limiting for a trader as you can only make money when the market moves upwards. This is not ideal, as the market obviously moves both up and down. Being able to trade both sides is preferable as there are more trading opportunities to take advantage of.
The best crypto signals group on Telegram will definitely be able to make money if bitcoin goes up or down. However, you can find some crypto signals groups that only take long trades or short trades.
Going long on a trade is very straightforward. It simply involves buying an asset low and then selling it for a higher price than which you bought it for. The difference between your buy and sell price is the profit that you will make.
Going short on a position is a little bit more different to going long. Going short involves borrowing an asset, for example bitcoin, from a willing lender that is then immediately sold at market price. If the price of the asset where to fall, then the asset is repurchased at a lower cost than which you sold it for, and the asset is returned to the lender. The difference between the price you sold for and then repurchased the asset is the profit that you will make on the short trade.
We are definitely seeing an uptick in the amount of traders that are turning to leverage trading, due to the opportunity to generate higher returns when compared to regular spot trading.
Conclusion
There are a wide variety of crypto signal groups to choose from, and I have introduced you to some of the best crypto signals groups that are currently out there.
The advantages of leverage trading are definitely obvious, and as a result it is becoming increasingly used among traders. This, combined with a reliable crypto signals group, can result in you being able to generate very consistent and reliable returns.
One last word of advise is that while I was researching, receiving signals, and reviewing groups, I came across a ton of groups that were clearly scams. Please, do yourself a favor and make sure to do your own research before joining a group. Happy trading!