Top 5 Free Forex Signals Groups on Telegram in 2023
Trading forex has been a common method for many to generate additional monthly income for themselves. However, many traders lack the time or skill required in order to be a successful forex trader. As a result, many turn to forex signal providers in order to help, and free forex signals groups are a great way for you to start trading forex today.
Why Get Free Forex Signals?
Forex signals groups are communities in which expert traders will publish their live trades for their members to follow. Group members are then able to generate consistent income for themselves by benefitting from the experience of a more skilled trader. However, the caveat is that trades don't always give their trades away for free, and therefore, some of these groups aren't cheap! Some are known to charge as much as $300 per MONTH to just to have the privilege of joining and following their trade signals.
Now, $300 a month is a lot, but it might be a worthwhile investment for really top-notch signals. However, you'd better be sure you're getting high-quality signals before paying a hefty fee.
This is where free forex signals groups come into play. Free forex signals groups are a great option for someone who is interested in making solid returns with the help of expert trade advice while also learning more about the forex market (and making sure that the signals you're receiving are truly worth the investment).
The only downside to a free forex signals groups is that you won't receive as many signals as you might in the paid group, but that shouldn't take away from the benefits too much — it is still a great option, especially if you're new to forex trading.
So in this article, we'll walk you through the top 5 free forex signals group on Telegram so you can start making solid returns without having to break the bank.
Before we get into the thick of the article, let's quickly explain what forex signals are in general and how you can profit from them.
What are Forex Signals?
At a fundamental level, these forex signal groups are made up of telegram groups with hundreds of members in them. When the signal provider is ready to issue a trade, they'll send out a notification that looks like this: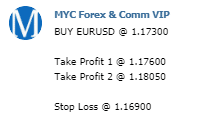 In the case of forex, the signal tells you which pair to buy of currencies to buy, whether to go short or long, along with the take profit targets and where the stop loss should be placed.
If you have a good forex signal provider that knows what they're doing, then you should make an excellent return:

If you're interested in taking a deeper dive into forex signals, be sure to check out our complete guide to forex signals.
Now that you understand what forex signals are and how subscribing to one can be incredibly lucrative, let's get into our list on the top 5 free forex signals groups on Telegram.
1. MYC Forex & Commodities Signals (

@MYC Signals

)
MYC Signals is the best forex signals provider that the space currently has to offer. With a focus on helping their members generate sustainable returns, MYC Signals' approach is all about consistency. They offer both a free group where members can receive high-quality signals, and a paid group where you'll receive more of those high-quality signals.
But it isn't just free forex signals, MYC Signals also provide signals for commodities such as oil and gold, something that very few other groups offer. This combination of both forex and commodity signals mean their members get a lot more value.
Lastly, the team post technical analysis updates so their members fully understand why a certain trade is being placed. This has the benefit of educating their members and helps them in becoming better traders.
If you want to join their free group and begin your journey of generating income from their forex and commodity signals, then here's how you can get started with them:
1) If you have telegram be sure to reach out to the admin, @MYCSupportBot, as well as to join their free forex signal group, MYC Forex & Commodities. In this group, you will receive completely free forex and commodity signals so you can see the quality for yourself. Alternatively, if you don't have Telegram, feel free to contact them via email: [email protected] and they'll walk you through how to get started.
2) They offer their premium channel: MYC Forex & Commodities VIP for you to join. The membership can be paid via any cryptocurrency of your choice or via card over at their payments page.
3) Once you're all signed up and are a premium member, they'll work with you to make sure you can follow their signals as easily as possible, as well as to solve any problems you may have. They tout 24/7 customer service so regardless of which time zone you live in, you can be sure that you'll get a prompt response.
2. FX Leaders
FX Leaders is a prominent platform catering to forex traders, offering a comprehensive range of services including live FX news, market analysis, real-time rates and charts, as well as advanced trading tools and strategies. One of the standout features of FX Leaders is its provision of real-time forex signals, delivered directly to users' email, ensuring timely access to trading opportunities.
The platform also provides valuable market analysis and technical content, helping traders make informed decisions. The user-friendly interface of FX Leaders, both on their website and mobile app, makes it accessible for traders of all levels of experience.
However, it is important to note that FX Leaders has received mixed user ratings and reviews. Some users have reported difficulties with certain signals and customer support, while others have accused the platform of being a scam. Based on our experience, these complaints are largely from users who joined at the wrong time and risked too much of their portfolio. But this is also one of the reasons why we also prefer to auto-follow signals — so that you can make a trade exactly when it's intended.
While these claims should be taken into consideration, it is crucial to conduct personal research and due diligence before making any financial decisions.
3. Free Signals Pro
Free Signals Pro is a free signals provider that offers forex traders the opportunity to connect their trading platforms and receive forex signals. The platform's API integration allows for seamless access to trading signals, enhancing the trading experience. The availability of free signals is a major advantage, as it provides an opportunity for traders to test and evaluate the effectiveness of the signals before committing to a paid subscription. Additionally, the instant notification alerts on the mobile app enable traders to stay updated on market movements and seize timely trading opportunities.
However, the accuracy and reliability of the signals provided by Free Signals Pro may vary. While some traders have reported positive experiences with the platform, others have expressed concerns about the consistency of signal quality. But that's part of the risk you take when you sign up for free forex signals!
4. ForexSignals.io
ForexSignals.io is a well-regarded platform that provides forex traders with access to reliable trading signals across various currency pairs, indices, and commodities. With a collective experience of over 15 years in the financial markets, ForexSignals.io has established itself as a trusted provider for serious traders. The platform offers valuable insights, projections, educational resources, and free signals, allowing users to make informed trading decisions.
Traders can also join their active Telegram community to connect with like-minded individuals and tap into their knowledge. Additionally, ForexSignals.io emphasizes the importance of maintaining trading journals, which can assist users in tracking their performance, identifying patterns, and refining their trading strategies.
5. ApexBull
ApexBull is a comprehensive forex trading platform that offers a range of valuable services to traders. Their focus is on equipping users with the essential knowledge and tools needed to navigate the dynamic forex market with confidence. ApexBull provides a diverse array of services, including live screen sharing trading sessions, daily signals, educational courses, personalized mentorship, and access to a supportive community of experienced traders. In addition, they offer supplementary resources such as trading journals and educational materials, enabling users to enhance their trading strategies and skills effectively.
Based on the research conducted on ApexBull's free signals, it appears that the platform offers trading signals from experienced Wall Street traders. These signals are aimed at helping traders navigate the markets with greater confidence, and they seem to do this fairly well. We just wished they focused more on education, explaining the benefits of things such as forex calendars and their technical analysis tools.
We also find that they do too much advertising for their paid service when they could just easily post educational technical analysis content on why they take certain trades and not others, using tools like Fibonacci retracement. All in all, they are an ok group to receive free signals from, but could do more when it comes to educational content.
Conclusion
To conclude, free forex signals are great for those who are looking to capitalize on the expertise of more experienced traders without having to pay a lot of money for it. If you feel that the quality of a group's free signals are great, you can then also join a premium group to receive even more — just be sure to read our ranking of the 5 best paid forex signals groups before you do! By layering your own knowledge and experience with professional's signals, you can produce a more reliable income stream from your trades over time.
Free forex signals are an excellent way of gauging the expertise of a particular group and should be used as a proxy to determine the level of returns you could expect to achieve if you were to pony up to receive their paid signals group.