Top 5 Free Crypto Signals Groups on Telegram in 2023
Cryptocurrencies have become synonymous with trading over the past few years. Due to the extreme volatility that exists in the market, the opportunity to consistently generate a substantial income by trading cryptocurrencies is a real possibility for the majority of skilled traders. What's more, is that crypto don't have to be doing well for you to do well trading it. In fact, in many cases the opposite is true! However regardless of a crypto's trend, if you lack the time and skill to trade yourself, you should consider joining a crypto signals group, and we always recommend getting started by joining and testing out a free crypto signals groups.
What Are Crypto Signals Groups?
Crypto signal groups are communities in which skilled traders will publish their own trades for their members to follow. This allows group members to benefit from the skill and experience of professional traders to generate consistent and meaningful income for themselves.
However, some of these groups aren't cheap! Most true professional traders will charges members a free — sometimes as much as several hundreds of dollars per month — to receive their crypto signals. Now, that's not necessarily a bad deal. If the signals are truly high quality, that can be a very worthwhile investment. But that's a big investment to make right out of the gates, and this is where free crypto signal groups come into play.
What Are Free Crypto Signals?
Many traders will offer free crypto signals groups as a way to demonstrate their track record, test their signals, get a feel for their trading style and risk profile, enable members to make some solid returns, and entice members to pay up for their "premium" or VIP group where they will issue even more trade signals.
While it might not cost anything to join a free crypto signals group, you still need to be sure that you are getting good signals so that you aren't making poor trades. After all, you are trading with your own money, so you need to be sure that you are following good trading advice.
So in this article we'll walk you through the top 5 free crypto signals group so you can start making solid returns without having to break the bank. Before we get into the thick of the article, let's quickly explain what crypto signals are in general and how you can profit from them.
How Do Free Crypto Signals Work?
Signal groups predominantly operate in telegram groups with thousands of members. When the signal provider is ready to issue a trade, they'll send out a notification that looks like this: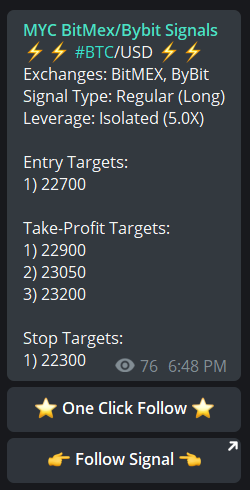 The call in this example are for people who trade on BitMex. The call tells you, what cryptocurrency to buy, whether to go short or long, along with the take profit targets, stop loss target and leverage amount.
If you have a good crypto signal provider that knows what they're doing, then you should hopefully make an excellent return: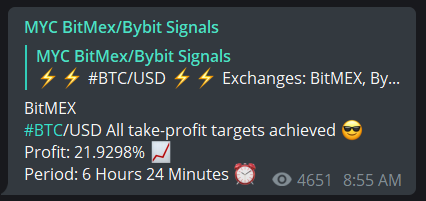 Now that you understand what crypto signals are and how subscribing to one can be incredibly lucrative, let's get into our list on the top 5 free crypto signals groups.
MYC Signals in terms of quality and customer service is one of the highest rated signal providers currently in the space. In their paid groups, they provide signals for a wide range of exchanges from BitMex/Bybit to Binance/Bittrex/Kucoin. This level of quality also extends to their free crypto signals group where they send trades for both beginner traders and experts alike.
If you want more than just their free cryptos signals, you can also join one of their paid groups. Despite being paid, it is one of the more affordable groups out there. If you're interested, here's how you can get started with them:
1) If you have telegram then be sure to reach out to the admin, @MYCSupportBot, as well as to join their free crypto signal group, MYC Signals. Alternatively, if you don't have Telegram, feel free to contact them via email: [email protected] and they'll walk you through how to get started.
2) They offer 2 premium channels for you to join: MYC BitMex/Bybit Signals VIP and MYC Binance Signals VIP. The membership can be paid via any cryptocurrency of your choice or via card over at their payments page.
3) Once you're all signed up and you're a premium member, they'll work with you to make sure you can follow their signals as easily as possible, as well as to solve any problems you may have. They tout 24/7 customer service so regardless of which time zone you live in, you can be sure that you'll get a prompt response.
CTT (Crypto Trades Today) is a solid group that provides crypto signals for novice and expert traders alike. 
CTT just launched in 2022, and although fairly new, they are already making huge waves and chatter across the crypto signals space.  
Their free channel is very beginner-friendly, providing fresh crypto news, as well as education (crypto terms) and inspiration (quotes).  We also love their technical analysis for its balance and neutrality, always taking into consideration different possibilities and discussing the scenarios that can unfold from each one.
If you decide to take the plunge and sign up for their paid signals, you'll find that they are one of the best options out there. They provide great returns and their subscription plans (starting at just $80 per month) are among the most affordable we've seen across all the competition.
BeInCrypto is an expansive crypto community with a daily user base surpassing several million. To enhance user convenience, they have established a free Trading Community group on Telegram.
Within this group, readers can access up-to-date news from around the world concerning blockchain, digital assets, and crypto signals. The channel regularly publishes technical analysis of various coins, forecasts, and reviews of services ranging from digital wallets to DeFi applications.
Subscribers also have the privilege of exclusive interviews with renowned crypto experts. A key advantage of this group is the opportunity for participants to engage in discussions with fellow crypto enthusiasts. Additionally, users can communicate with verified crypto traders on Telegram and receive signals about cryptocurrencies directly from them.
The group caters to individuals who seek to stay at the forefront of the industry and engage in discussions on trending news with other participants in the digital assets market. Furthermore, BeInCrypto is an invaluable resource for traders who wish to consistently receive trading signals from professionals.
Verified Crypto Traders is a well-established crypto trading group that offers a range of services to investors. With their high-quality crypto market analysis and trading signals, they aim to provide valuable insights and profitable opportunities in the cryptocurrency market.
The group has received positive reviews from customers, indicating that they are generally satisfied with the services provided. Verified Crypto Traders is known for its accuracy in spot trading, with an accuracy rate of over 90%. They have a solid reputation as a trustable group with a legal setup, which gives investors confidence in their services. Overall, Verified Crypto Traders is a reliable option for individuals looking to navigate the complexities of the crypto market.
Wolf of Trading is a free crypto signals provider that specializes in BTC and ETH. This Telegram channel offers 2-3 free signals per week, each accompanied by annotated charts and multiple price targets for every trade.
The service is user-friendly, although traders should be aware that the frequency of signals is lower compared to paid channels. Additionally, Wolf of Trading occasionally shares enigmatic messages about market conditions, leaving traders to interpret indicators on their own.
When it comes to a free channel, Wolf of Trading has several commendable aspects. Traders seeking market knowledge can analyze the annotated charts, while those looking to simplify their workload can rely on the signals on autopilot.
How to Receive Free Crypto Signals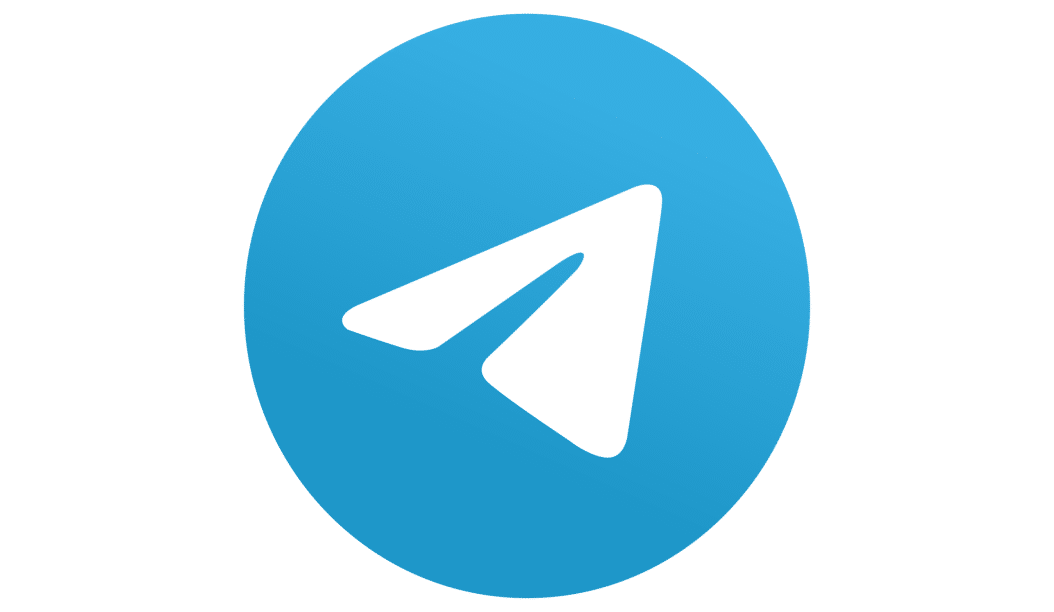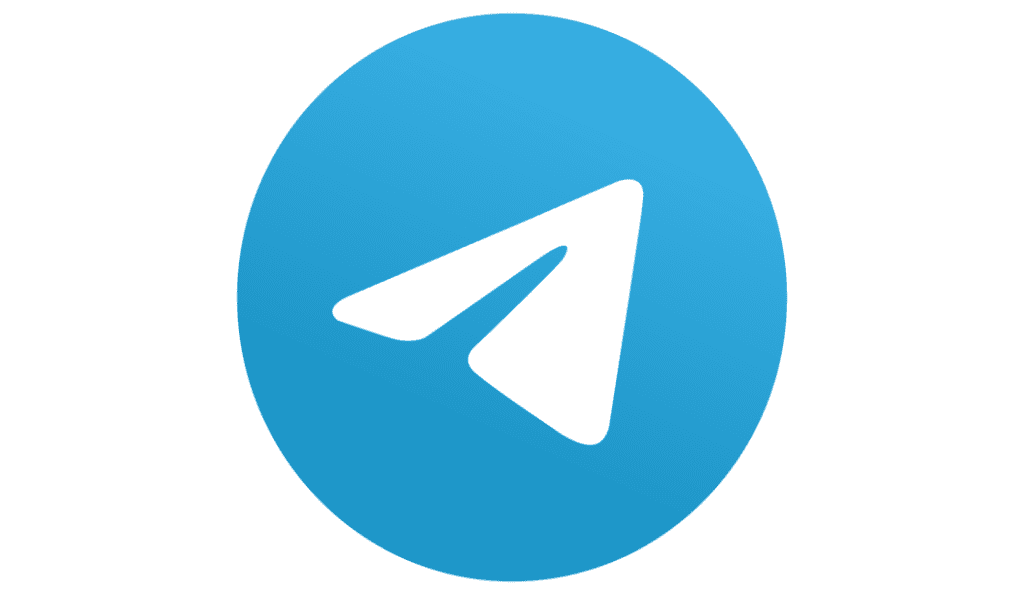 In order to join a free crypto signal group you need to understand how to sign up, receive, and follow those signals.
The most popular method of receiving free signals is on the mobile application, Telegram. Telegram is an instant messaging service app that has the look and feel of WhatsApp. However, Telegram's focus on privacy as well as its unique group feature makes it an ideal place to get signals.
Another method of receiving crypto signals, although significantly less popular, is through email. This method is usually for those that don't have Telegram but are still interested in receiving signals regardless.
The big disadvantage of this however, is that unless you're checking your email multiple times a day, you may miss a signal. This is in contrast to instantly getting notified as soon as a signal comes in from your provider and being able to auto follow those signals. It certainly isn't the most popular method of receiving crypto signals, but it does work for some people.
More often than not, people opt for downloading Telegram in order to receive their free signals.
Perk of Free Crypto Signals Groups: News & Analysis
Another perk of joining a free crypto signals group is receiving news and educational material from the trader — most people don't just want the signals, they also want to understand the rationale behind them. So if you follow a professional trader, they'll share daily news and analysis on different cryptocurrencies that they're following to help you learn about crypto and prove their strategies.
The analysis and news updates are typically released in the free signal group of a telegram provider, and so is another viable reason for wanting to download and use Telegram.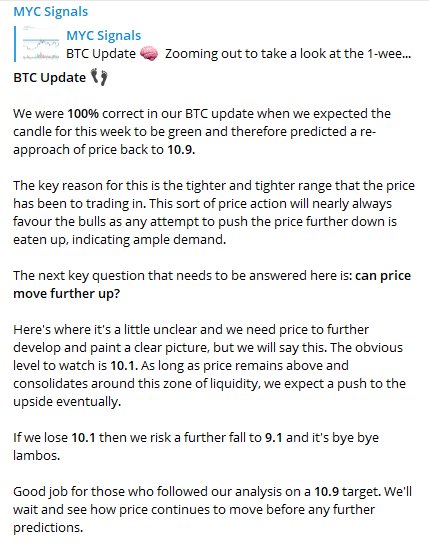 The above image is a good example of well-thought out and rigorous analysis that you should expect to receive from any reputable signal provider. A lack of analysis may be indicative of a lack of quality when it comes to the signals.
Furthermore, each analysis will nearly always come with a chart like the below which shows in graphical format why the signal provider is choosing to enter into a particular trade.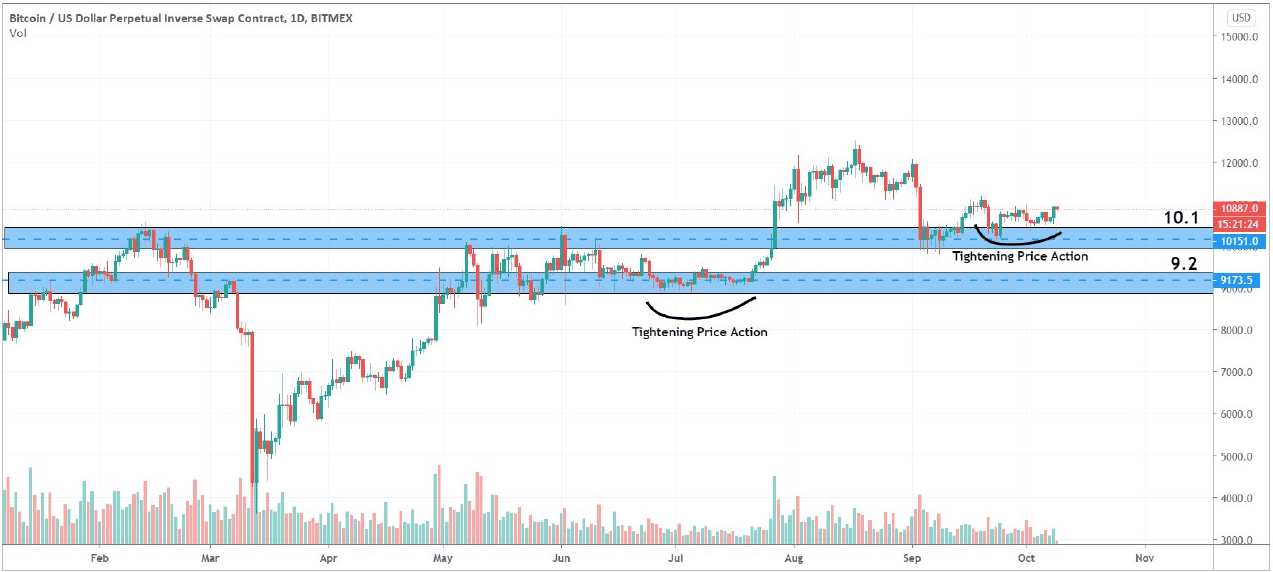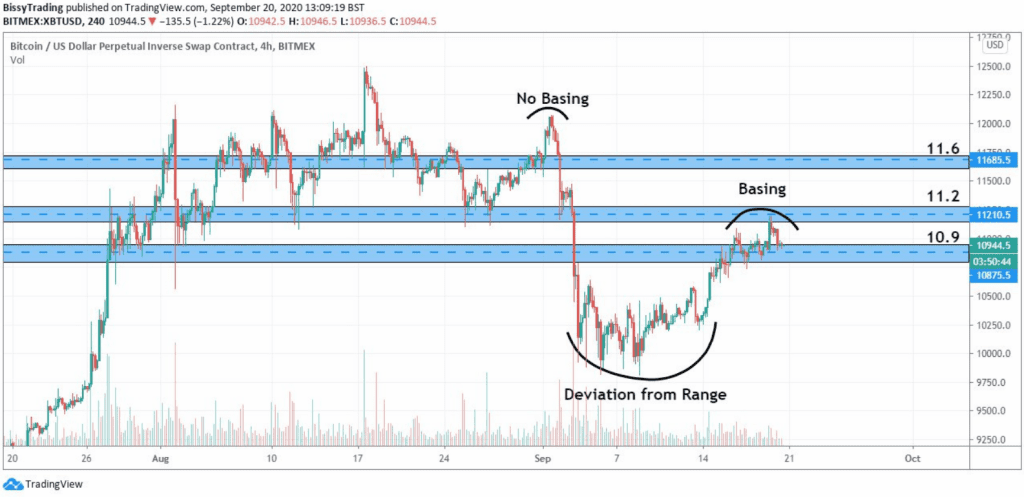 These sorts of clearly laid out analysis that accompany each signal kills two birds with one stone:
You Receive free high-quality signals
You learn high-level trading techniques
Receive free high-quality signals – We all like things that are free, and signals very much fall into that bucket. You can follow these free daily signals and use them to generate a little bit of extra income for yourself with minimal effort.
Learn trading techniques – If you want to receive free signals, more often than not, you're most likely a little bit inexperienced when it comes to trading incredibly volatile assets like crypto. By following a group that has detailed analysis with each signal, you'll also learn things that you can start to implement in your own trading to make you better.
In short, news and analysis are very much just as important as the free signal itself. It is key that you have a comprehensive understanding behind why you're following a particular signal so you improve as an overall trader.
Conclusion
To conclude, free crypto signals are great for those who are looking to capitalize on the expertise of more experienced traders without having to pay a lot of money for it. If you ever did become more interested in a group and liked the results that they post, you can then of course purchase a premium membership, where you'll typically get more frequent signals.
Free crypto signals are an excellent way of gauging the expertise of a particular group and should be used as a proxy to determine the level of returns you could expect to achieve if you were to join them. They are also a great way for you to learn more about trading crypto, as many groups share information, technical analysis, and news. To learn more about trading crypto, check out our ultimate beginner's guide to crypto signals. Happy trading!