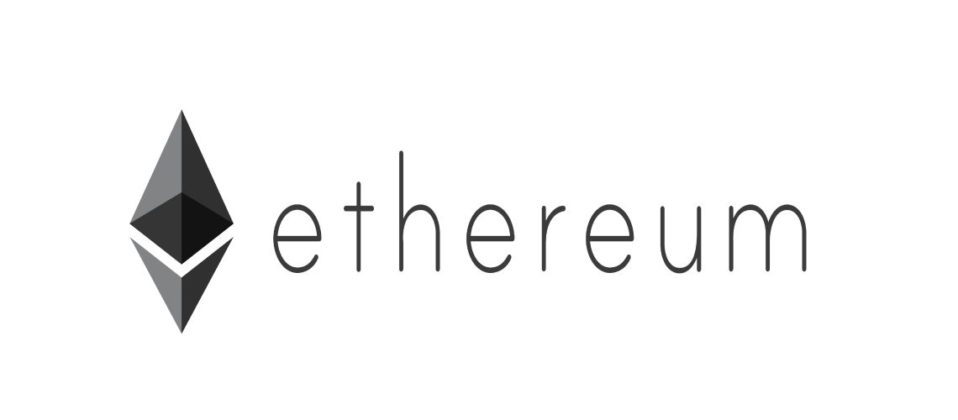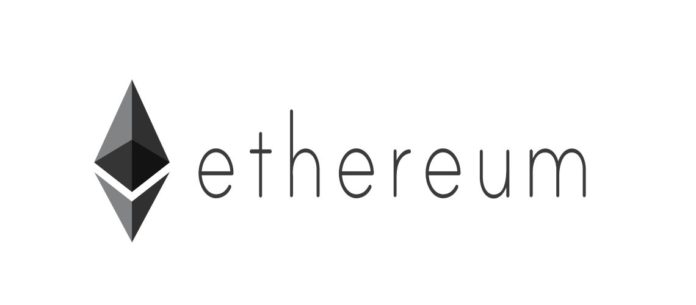 5 Best Ethereum Signals Groups on Telegram
Let's take a look at the five best Ethereum signals providers on Telegram that currently exist in the cryptocurrency space so you choose one that will help you make money trading consistently.
But before we get into the article, let's run through a quick explanation of what Ethereum signals on Telegram are, and how you can stand to benefit from them.
Ethereum is one of the most liquid crypto markets out there. So there's lots of opportunities for skilled traders to dive in and out of the market, generating a hefty profit along the way. It's available on nearly every exchange, so you'll never have problems liquidating your position.
Even if you're just getting started with trading, you can join a free telegram group where teams of professional traders will give you Ethereum signals on telegram, which you can pick apart and learn from, as well as macro-analysis of the market in general. If you can stay disciplined, you can bring in significant amounts of passive income as you grow your skills.
Ethereum Signals
Signal groups predominantly operate in telegram groups with thousands of members. When the signal provider is ready to issue a trade, they'll send out a notification that looks like this: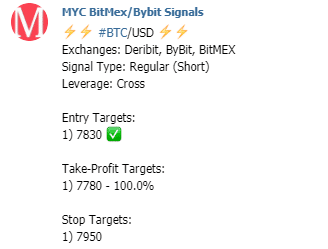 The call in this example is a Bitcoin signal, but can just as easily be a signal for Ethereum. The call tells you, what cryptocurrency to buy, whether to go long or short, along with the take profit targets, stop loss target and leverage amount.
If you have a good crypto signal provider that knows what they're doing, then you should hopefully make an excellent return: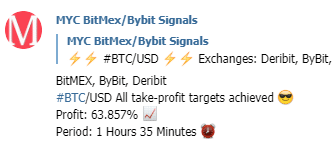 Now that you understand what crypto signals are and how subscribing to one can be incredibly lucrative, let's get into our list on the 5 best Ethereum signals providers on Telegram.
MYC Signals is an elite signal group and is easily one of the most professional providers currently in the space. They place an emphasis on ensuring consistency in their results so you know exactly the level of returns you can expect when following their calls.
Their Ethereum signals can be followed regardless of which exchange you trade on, including: BitMex, Bybit, Deribit and Binance. Each issued call is properly researched in order to ensure the likelihood that a profit is returned to their members. If you want to start generating an income from their Ethereum signals, then here's how you can get started with them:
1) If you have telegram then be sure to reach out to the admin, @MYCSupportBot, as well as to join their free crypto signal group, MYC Signals. Alternatively, if you don't have Telegram, feel free to contact them via email: [email protected] and they'll walk you through how to get started.
2) They offer their premium channel: BitMex/Bybit or Binance Futures VIP groups for you to join. The membership can be paid via any cryptocurrency of your choice or via card over at their payments page.
3) Once you're all signed up and you're a premium member, they'll work with you to make sure you can follow their signals as easily as possible, as well as to solve any problems you may have. They tout 24/7 customer service so regardless of which time zone you live in, you can be sure that you'll get a prompt response.
2. Crypto Trades Today (

@CTT

)
Crypto Trades Today is a group that has appeared on several of our lists due to their consistency and professionalism. As well as offering solid Ethereum signals, they also share news trends within crypto space, golden insights through technical analysis and crypto terms, and "spoken from experience" quotes. 
Their trading team never forces a trade to meet a quota, rather, their signals are the result of research and confidence. And because of their robust team of experienced traders, you'll still get plenty of signals for Ethereum, Bitcoin, and other crypto.
3. AltSignals
Specifically offered in their BitMex and Binance groups, AltSignals is a somewhat well-respected signal group with an established presence. They do a good job in providing Ethereum signals, but as well as that, providing educational content for their members to consume and learn from.
They do tend to trade on the riskier side, but their team of experience traders are key in ensuring those risky trades turn profitable in the end.
4. Mike Crypto Signals
A one-man army with a loyal following, Mike Crypto Signals is a well-respected crypto group whose sole aim is to make their members money. They firmly exclude themselves from the lower quality signal groups and are able to generate attractive returns for their members on a consistent basis.
The Ethereum signals that Mike issues can be followed on any cryptocurrency exchange from Binance to the Bittrex. Mike also does a great job in keeping members updated on the progress of any issued signals and how the market may affect it, and as such, if any changes need to be made.
5. Binance Futures Signals
A relatively new crypto group, Binance Futures Signals issue Ethereum signals primarily for those trading on the Binance Futures platform. They focus on the larger volume cryptos such as Bitcoin and Ethereum and have so far shown to provide consistent returns month on month.
They are a relatively new group and as such still have some way to go until they establish themselves as one of the dominant signal groups in the space. They do offer free signals so those interested can sample them before deciding if or not to subscribe to their paid groups.
Conclusion
The combination of trading on one of the most well-known cryptocurrencies in Ethereum, with receiving trading calls telling you exactly when to buy and sell it, can result in the generation of meaningful amounts of additional income on a monthly basis. Read some more about telegram trading signals if you're on the fence!
This list covers best Ethereum signal providers that we think currently exist in the cryptocurrency space. It should somewhat inform your decision in deciding who should get your subscription and who shouldn't. We hope it helps!