5 Best Bittrex Signals Groups on Telegram
Bittrex is a world-renowned cryptocurrency exchange that supports hundreds of digital asset pairs to allow for trading between investors. In this article, we will take a look at the 5 best Bittrex signals providers so you can ensure you only select the good ones to work with. However, before we jump into the article, we want to quickly share more info on Bittrex and explain what exactly Bittrex signals are.
Headquartered in Zurich, Bittrex is a trusted platform for cryptocurrency trading, and as such, has amassed a user base in the millions. With such a large number of traders buying and selling cryptocurrencies, it's no wonder that some are trying to find an edge and multiply their returns by using Bittrex signals providers
These providers release trading calls, or signals, for those who trade on the Bittrex exchange. Subscribers of these signals are then able to generate a nice return for themselves by following them as accurately as possible. If you trade on the Bittrex exchange and at the same time are looking for a signal provider then this article is relevant to you.
Bittrex Signals
Signal groups predominantly operate in telegram groups with thousands of members. When the signal provider is ready to issue a trade, they'll send out a notification that looks like this: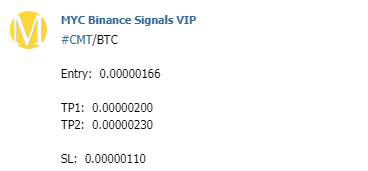 The call in this example are for people who trade on Bittrex, Binance and Kucoin. The call tells you, what cryptocurrency to buy, whether to go short or long, along with the take profit targets, stop loss target and leverage amount.
If you have a good crypto signal provider that knows what they're doing, then you should hopefully make an excellent return: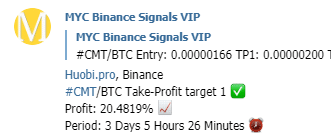 Now that you understand what crypto signals are and how subscribing to one can be incredibly lucrative, let's get into our list on the best 5 Bittrex signals providers on Telegram.
When it comes to producing Bittrex signals, MYC Signals is by far one of the highest quality groups that the space currently has to offer. With a focus on high-liquidity coins, MYC Signals' approach is all about consistency over big gains. This means that you can reliably predict how much returns you can expect to generate as a member of their group over a given period of time.
As well as providing Bittrex signals, they also provide signals for other exchanges such as Binance and Kucoin. If you want to join their group and begin your journey of generating income from their Bittrex signals, then here's how you can get started with them:
1) If you have telegram then be sure to reach out to the admin, @MYCSupportBot, as well as to join their free crypto signal group, MYC Signals. Alternatively, if you don't have Telegram, feel free to contact them via email: [email protected] and they'll walk you through how to get started.
2) They offer their premium channel: Bittrex/Binance/Kucoin VIP for you to join. The membership can be paid via any cryptocurrency of your choice or via card over at their payments page.
3) Once you're all signed up and you're a premium member, they'll work with you to make sure you can follow their signals as easily as possible, as well as to solve any problems you may have. They tout 24/7 customer service so regardless of which time zone you live in, you can be sure that you'll get a prompt response.
2. Fat Pig Signals
Despite the unusual name, Fat Pig Signals is a well-known provider of Bittrex signals in the cryptocurrency space. They have a seemingly reliable team that place an emphasis on using technical analysis to guide the signals that they place.
They do a good job in keeping members updated on the broader key events happening in crypto space. Even if you choose not to subscribe to their channel for their signals, you can subscribe to their channel just to receive their daily news updates.
3. Crypto Trades Today (

@CTT

)
CTT has appeared in our previous lists, and for good reason. Despite being a newer group (they launched in 2022), they are one of the more reliable groups out there when it comes to providing Bittrex signals. 
Their subscriptions are some of the most affordable options out there and should give anyone more than enough time to gauge the accuracy and quality of their signals. As far as we can tell, they are one of the best "bang for your buck" options out there for Bittrex Signals.
4. Mega Crypto World
Certainly, one of the larger providers of both Bittrex signals and other signals generally, Mega Crypto World is a well-known brand. Unlike other groups, they do a good job of not over-trading and only sending signals when they see a good opportunity.
However, some of their signals do not contain stop losses, and so, you shouldn't be too surprised when a signal released by them doesn't show the take-profit target being hit until 5 months later. This practice of not using a stop loss is not something that we would recommend and should factor into an individual's decision when deciding if or not to subscribe to this group.
5. 4C Trading
The team over at 4C Trading News run a pretty slick operation when it comes to the provision of Bittrex signals. They seemingly have a focus on using wider news events happening in the crypto space to inform the trades that they place.
In this regard, they can be seen as the macro-focused signal provider due a thesis they seem to have of news events having a drastic impact on the price of various cryptocurrencies. They also issue reports showing how much potential returns prospective members could have made if they took the plunge and subscribed.
Conclusion
Bittrex is global cryptocurrency exchange with a user base in the millions that attracts traders of all types. There is an increasing trend of the provision of Bittrex signals by groups in order to help people generate a sustainable income from trading cryptocurrencies. This ranking of the top 5 Bittrex signals groups on Telegram should help you determine which group will be the best for you!