Top Bitmex Leverage Trading Groups on Telegram
Introduction
Cryptocurrency groups are becoming popular on social media. These groups allow traders to meet with people who share the same interest and ideas with them. They've become a safe haven for people to discuss ideas, educate, and communicate with experts. These groups also share trading signals to help improve their members' return on investment. Bitmex leverage trading groups are no different.
They operate by sending signals to their subscribers, informing them which currency to buy/sell and what time to carry out the trade. This information is based on technical, fundamental, and expert analysis of the market.
With recent events in the crypto market, the demand for quality and trusted Bitmex leverage trading groups online are at an all time high.
Trading the crypto market comes with enormous risk and people want to ensure the signals they are getting are legit. Not only are you paying for signals, you're trading your own crypto. Placing the wrong trade or getting in late after a major swing in the market could yield devastating results. That's why people look to join telegram channels run by professional traders.
In this article, we will cover the top Bitmex leverage trading groups on telegram, their pros, and their cons.
Let's start with some background about how telegram trading signals work…
What is Telegram And Why is It unique?
Telegram is a used instant messaging app. Although it looks and performs the function of WhatsApp, it has some extra features which have increased its popularity among the crypto communities.
Some of these features which have attracted top Bitmex trading groups to telegram includes:
Supergroup features: Unlike WhatsApp, which allows about 256 members to join a group chat or community. Telegram offers a supergroup feature where millions of users can come together to share ideas.
Channel features: Another unique feature of the telegram is the channel features. It allows telegram users to broadcast messages to a large community of audiences. It also allows users to subscribe to many channels.
Bot features: Telegram also allows users to create bots and automate them to be able to handle many messages reply at once. This allows many channel owners to be able to program automated FAQs for their subscribers.
Encrypted chat: All chats on the platform are encrypted. Users can delete messages at a chosen time on both ends, and their privacy is well protected.
And so much more!
Now that we've covered the basics of telegram, let's dive into the top Bitmex leverage trading platform on telegram.
Top Bitmex Leverage Trading Groups on Telegram
Bitmex is a cryptocurrency exchange platform. It performs the same function as binance and allows for easy trading of cryptocurrency pairs. The forum enables users to buy and sell coins in a more exposed market.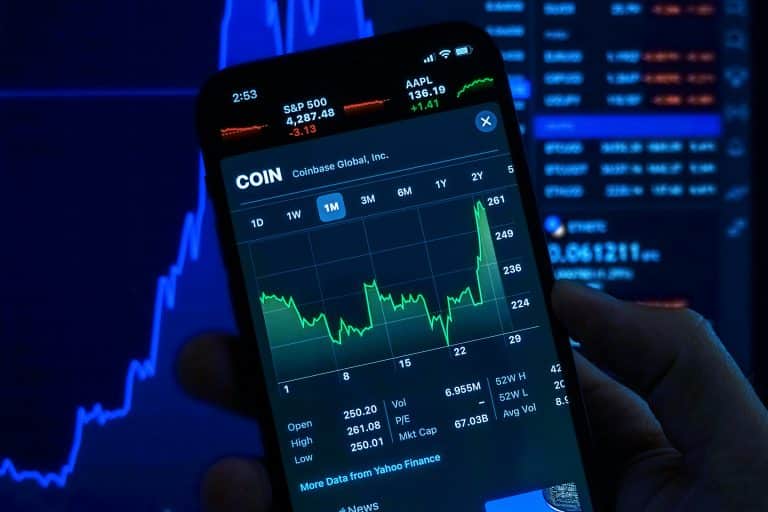 Here are the Top Bitmex Leverage Trading Groups on Telegram you should consider joining…
MYC Signals is the telegram group has over 35,000 subscribers on their telegram page and is run by the professional trading team affiliated with Mycryptopedia. As such, you can expect solid signals and educational resources to help you begin or continue your journey as a trader.
The team at MYC prides themselves on being the #1 signal provider for Bitmex and Binance trading platforms. With MYC you'll get a steady stream of signals and consistent returns.
MYC Signals group dedicates its time and resources to educate its subscribers about all things crypto. They ensure the information and insights provided in these resources are of high quality – and up to date.
They frequently share information including articles, tips of the day, and much more to help you continue to learn and grow as a trader. You can join their FREE telegram group here.
Why Choose MYC
They provide educational content created by an expert in the field of cryptocurrency.
Their experts provide functional technical analysis.
Their signals are reliable, and returns are consistent.
They also offer educational and informative commentaries for their subscribers.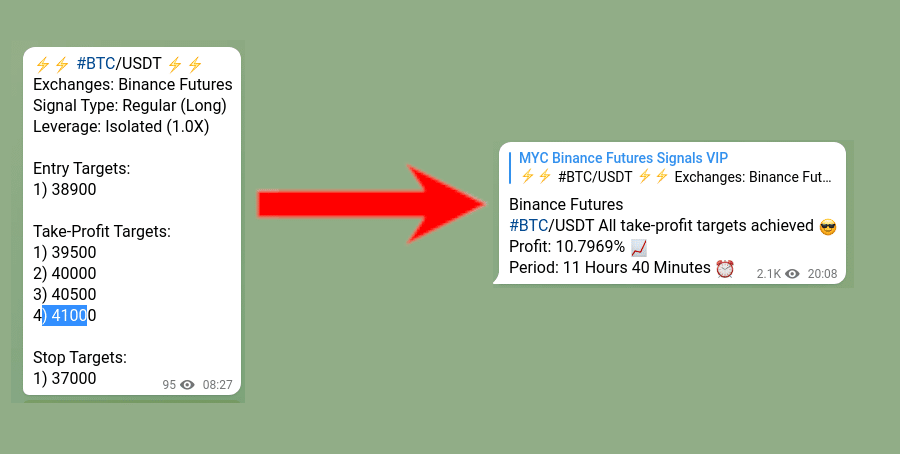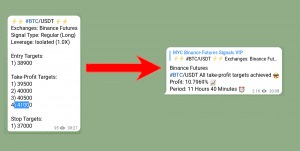 2. Crypto Trades Today (

@CTT

)
CTT is a unique group in that they have a large team of traders. As a result, each trader at CTT only issues a trade when they have a high level of confidence. Compare this to the all-too-common scenario where signal providers are forced to make (often risky) trades at prescribed intervals, and it's easy to see why CTT is so successful and quickly becoming one of the most popular signals providers.
You will get a slice of their wisdom through their free public channel, where they provide constant news on the crypto space, golden insights through technical analysis and crypto terms, and "spoken from experience" quotes that will surely elevate you as a person and as a trader. Even novice traders can trade using their signals and still make consistent returns on investment.
Benefits of Choosing Crypto Trades Today
They provide quality and reliable signals.

They provide adequate training and coaching to their subscribers.

They offer some of the lowest subscription plans available, with plans starting at just $80.
3. Cointelegraph
Cointelegraph is a leading digital media company with a core focus on blockchain technology, fintech, crypto assets, and many more. They were formed in 2013 and have since grown to become one of the biggest crypto platforms in the world.
The Cointelegraph telegram group has over 162,000+ subscribers on their page. Also, they are one of the most popular platforms. They also provide trading analysis, crypto market news, informative materials and articles, and many others. They are prompt to update their information and are a very active group.
Cointelegraph is made up of a passionate team that delivers quality information, market news, technical analysis, expert opinion, and other things which will improve your crypto experience. They believe that the crypto world is growing and will become a part of our daily activities.
Benefits of Choosing Cointelegraph
Expert opinion.
Relevant and reliable news stories.
Reliable market analysis.
4. ICO Speak
The "ICO speak" is an online community with about 410,000+ subscribers on telegram. They provide services on blockchain information and to crypto-oriented people interested in upgrading their skills in the crypto market. ICO SPEAK is dedicated to educating and inspiring crypto traders all over the world.
"IOC speak" offers two telegram channels to subscribers. One is a feed to get the latest market news and other materials. The other is a community where traders can interact, share signals and make consistent returns.
Benefits of Choosing ICO Speak
Free access to market feeds
Large community
Expert opinions.
5. Bob's Bitmex Signals
This telegram trading community provides its subscribers with direct access to Bob. Bob is an expert on cryptocurrency and anything crypto. He offers to educate and coach his subscribers on the subject. Bob also provides signals to his subscribers to trade with.
Bob's Bitmex channel provides daily updates about what cryptocurrency pairs to trade, when, and how.  The channel also uses cornix to make it easy for its subscribers to trade on the telegram platforms.
Novice can also start trading on bob's channel using Bob's signals which are reliable and deliver consistent ROI.
Benefits of Choosing Bob's Bitmex Signal
Direct access to a professional.
It makes use of a cornix, which makes trading easy.
It provides online training and coaching.
6. Coingape-crypto
Coingape-crypto is new relative to the other platforms but has generated a large following of about 31,000+ subscribers from all over the world. It's a news platform dedicated to providing quality market feeds and updates about blockchain and other crypto-related issues.
They cover real news such as new development in blockchain, regulations and laws about crypto, upcoming events, price analysis, and other quality services.
In addition to their quality news feeds, they are managed by experts in crypto and crypto-related issues and ready to offer their subscribers professional and expert opinions.
Benefits of Choosing Coinpage Crypto
UpToDate crypto news
Large online presence
7. Whalepool
Whalepool is a cryptocurrency community with over 12,000+ subscribers worldwide. Their primary specialty is crypto trading and related discussion.  They focus on trying to bring many traders together to trade and discuss their trades.  If you are a crypto trader and looking to rub minds with fellow traders, then whale pool is for you.
One of the unique benefits of this group is that young traders can connect to experienced traders and up their trading skills. It also allows traders to clarify issues, ask questions and get market analysis that is helpful to their trade.
Benefits of Choosing Whalepool
Trading focused discussion and interaction.
Latest market news.
Market analysis by experts.
8. Bitcoinist
Bitcoinist, also known as BitcoinistNews, is an online crypto community with over 9000 followers on telegram. Their primary focus includes cryptocurrency, the financial market, and blockchain.
Besides, the community offers quality educational and informative material to its users. They also provide helpful market analysis to subscribers and signals.
Benefits of Choosing Bitcoinist
They provide educational articles.
They give quality market research and analysis.
They provide reliable market feeds.
9. Verified Crypto Traders
The platform offers leverage for its subscribers to trade cryptocurrency. Verified Crypto trader provide unique services to their subscribers in the form of Gold and Silver subscription. The two services come with different features and are usually purchased at $999 and $1299.
Subscribers may need to upgrade their package to be able to receive some signals. While this group is expensive, their signals and information are reliable.
Benefits of Choosing Verified Crypto-Traders
Its packages are upgradable.
They provide reliable signals.
They offer educational materials.
They offer Market analysis
10. CryptoSignals
Crypto signals are one of the top Bitmex trading channels on telegram. They have a team full of professionals who are experts at offering the most advanced and reliable signals to their subscribers.
The CryptoSignals team is experienced with over 5 years of crypto trading under their belt. So you can trust their expertise and professionalism to give you the best signal available. They provide a monthly Roi of 10-15% through advanced trading solutions.
They will also share signals that adapt to your need and platform, be it bitmex or binance, so you don't need to worry.
Benefits of Choosing CryptoSignals
They provide a trading bot known as Cornix.
They provide a consistent Roi of up to 10-15%.
They have over 5 years of expertise in the crypto market.
11. Margin Whales
Margin whales is a popular BitMEX trading group on telegram with more than 76,000+ subscribers. They provide high-quality signals to their subscribers to help them trade and produce consistent ROI.
They provide their subscribers' information like when to buy, what price to trade, and when to close a trade. Also, they will help you to optimize your trading strategies.
Conclusion
These Bitmex leverage trading groups on telegram have unique features which they offer to their subscribers. The listed telegram groups provide specific services that appeal to different subscribers. We hope that this article has helped you learn about different Bitmex leverage trading groups on telegram so that you can better assess which signals provider would be best for you and your goals.