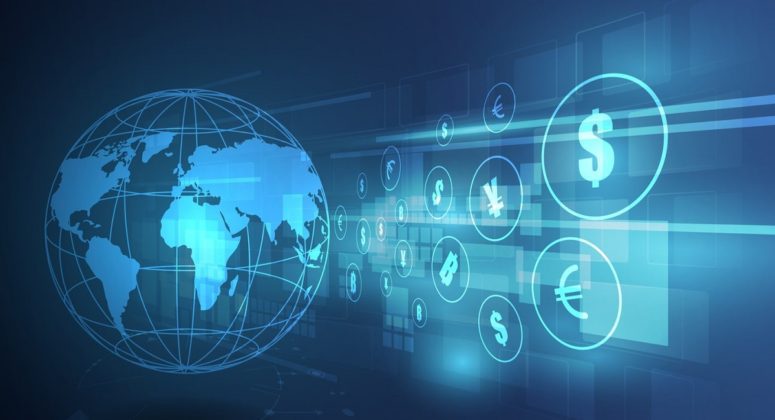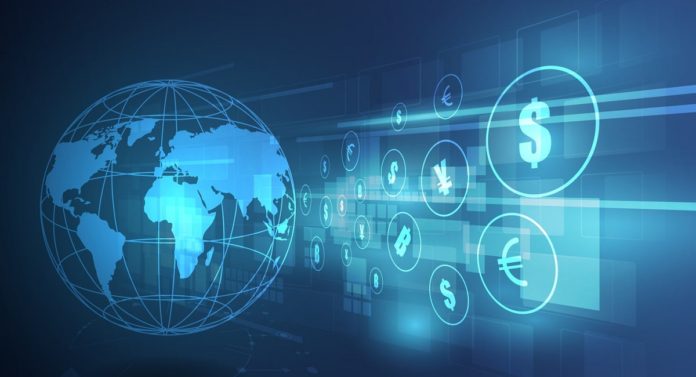 Top 20 Forex Trading Signals Groups on Telegram
Trading is one of the most lucrative activities that that you can do to earn additional income. To be more specific, trading forex, especially with the help of professional forex trading signals, has been incredibly lucrative for both expert traders and novice investors alike.
Forex trading signals are also a great option for anyone who wants to diversify their trading portfolio and make big wins in another market, or for the trader who's a bit skittish about crypto — because unlike crypto, the forex market is highly regulated.
Of course just because forex is regulated doesn't mean it isn't volatile. Compared to traditional markets such as stocks and bonds, the forex market is quite volatile, meaning that the opportunities to generate high returns are far more plentiful. Of course, trading forex can be difficult, as being successful demands discipline and time. Because of this, we've seen the emergence of forex trading signal groups on telegram, which are run by experienced traders that will tell you exactly when and what to trade.
The benefit of these forex trading signal groups is that these expert traders will spend significant time studying trends and identifying profitable trading opportunities, so that you don't have to. These groups are a great way to grow your money passively. Sign up, auto-follow an expert's trade recommendations, and off you go. This article will walk you through the best forex trading signal groups to follow so you can make the most from your time and money.
However, before we get into the thick of article, here's a quick primer on what exactly forex trading signals are.
What are forex trading signals?
Very simply, forex trading signals are a set of instructions telling you when to buy or sell a forex pair. Forex signals will usually have the following format:
Forex pair – the signal will inform you which pair of foreign currencies you should trade.
Buy – the signal will specify the price point at which the pair should be bought.
Sell – the signal will also tell you when to sell.
Stop Loss – in case the trade does not go as planned, the signal will also tell you where to set your stop losses, so that any potentially losses can be reduced.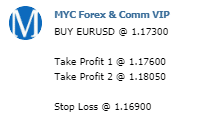 If all goes well, the forex trading signal telegram group you're in should be making you a consistent profit, and hopefully you will be getting alerts like the one below notifying you of how many pips in profit you've made:

Now that you know what forex trading signals are, let's take a look at the best telegram groups and channels that you can join for forex signals and start generating returns!
1. MYC Forex & Commodities Signals (@MYC Signals)
MYC Signals exudes quality when it comes to the production and success of forex trading signals. With a focus on helping their members generate sustainable returns, MYC Signals' approach is all about consistency. They offer both a free group where members can receive high-quality signals, and a paid group where you'll receive more of those high-quality signals. They also provide signals for commodities such as oil and gold, and post technical analysis updates so their members fully understand why a certain trade is being placed.
Getting started with them is straightforward. Here's how to join their channel:
1) If you have Telegram be sure to reach out to the admin, @MYCSupportBot, as well as to join their free forex signal group, MYC Forex & Commodities. In this group, you will receive completely free forex and commodity signals so you can see the quality for yourself. Alternatively, if you don't have Telegram, feel free to contact them via email: [email protected] and they'll walk you through how to get started.
2) They offer their premium channel: MYC Forex & Commodities VIP for you to join. The membership can be paid via any cryptocurrency of your choice or via card over their payments page.
3) Once you're all signed up and are a premium member, they'll work with you to make sure you can follow their signals as easily as possible, as well as to solve any problems you may have. They tout 24/7 customer service so regardless of which time zone you live in, you can be sure that you'll get a prompt response.
2. Wall Street Forex Signals
These guys have been around for a while and have one of the larger groups in the space. Wall Street Forex Signals release both free and premium signals. However, their signals are not always the best performing, but when they aren't, the team is very honest and straightforward in owning up to it.
The group does advertising for their paid service in their free group to entice users to sign up for their premium product. One noticeable absence in their channel is educational content. So if you're looking to learn while trading, this wouldn't be the best group for you. Overall, they are a good group to receive both free and premium signals, however, they could do more in terms of educational content.
3. Royal Forex Signals
Royal Forex Signals mostly offers premium signals. This is the opposite of other groups which do a combination of both free and paid. Instead of free signals, Royal Forex post high quality charts and trade setups.
These charts are truly high in quality and highlight common chart ranges and patterns such as: head and shoulders and double tops. Each chart contains a short commentary on the key themes you should have in mind so that you can learn to trade independently.
4. Pip Prophet
With the prophetic ability to find optimal trades and therefore secure lots of pips, Pip Prophet is a high-quality forex group. They have a loyal following which is an indication as to the quality of signals.
They also post several TA charts with clear and simple explanation as to why they may or may not take a certain trade. They have a good level of customer support, with agents who are willing to answer questions regarding their pricing plan or the forex market.
Due to the group's focus on quality, the frequency of signals does need to be called into question, however, the few signals that they do release tend to perform well.
5. PipChasers
The purpose of the PipChasers group is to chase Pips and generate a return for their premium members. They offer active trade management support to advise their members on the correct actions to take during a trade's life cycle.
They aim for PipChasers is to post a trade a day, so members are getting the full value of their premium service. However, one of the downsides of PipChasers is that there is a distinct lack of educational content posted by the team. This prevents members from learning and becoming better trades in their own right.
6. Forex Pips Factory
This forex trading signal group, Forex Pips Factory is one of the smaller forex signal providers in the space, but their quality is up there with the larger groups. This group definitely goes for quality over quantity, which is nice but does leave something to be desired.
Furthermore, unlike some other groups, they do not post as much educational content such as charts that appropriately explains the thinking behind a particular trade. The group mostly spends time posting promotional material so as to convince free members to join their premium service.
Ultimately, the signals released were good, but more can be done in terms of frequency as well as educational content.
7. Ten Times Profit Fx
This group will teach you a lot when it comes to trading. The biggest plus of this group is the chart setups that they post. They're incredibly high quality and concise in explaining a trade setup.
Members of the group are able to do the following: analyse the charts that they post, see if you agree with the analysis, then decide whether or not to follow the signal. This is a great method in allowing members of the group to learn for themselves as well as acquire the necessary skill needed to be a successful trader.
However, we almost always suggest auto-following signals, as that's the only way to ensure you make your trade at the absolute best time.
8. Forex Signal Solutions
A mix between a free and paid channel, Forex Signal Solutions is a solid group if you're looking for a dependable provider of forex trading signals. The team provides free signals so members can get an idea of what they can expect when they join the premium group.
Each signal is accompanied with a chart intended to give members an idea behind why a particular trade is being taken. Despite the advantages offered by the group, one big disadvantage is the lack of frequency between trades, at least in the free group. This may be because the team reserves all the best signals for their premium group, but from an outsider's perspective the channel seems quiet and not consistently managed.
9. Forex Scalper Zone
With a focus on securing scalp trades, Forex Scalper Zone is a group with two focuses: the premium signals that it offers, and the automated trading bot. If members do not necessarily want to follow signals manually, then the group offers the use of a bot to automate the process.
The main drawback of this channel is that they offer very little in terms of free value that is delivered to members, instead, the channel is filled with promotional material encouraging free members to purchase the premium signal service or the bot. There's no real way of validating if either of these services perform to the level that is advertised and so it is very much down to individuals to message the admin and find that out for themselves.
10. Tugas FX Signals
Tugas is one of the smaller groups but also one of the most well-operated that we've seen. They organise a week's worth of performance into a single post so members are easily able to gauge the performance of the premium signal service in a quick and efficient manner.
However, they post no free signals at all and are more than content to post the result of trades from their premium service in order to encourage members to sign up. Furthermore, they also post no charts or educational content in the free channel.
It's typically good to see educational content from forex trading channels on Telegram as it allows free members to get a sense of the quality before joining. This is something Tugas unfortunately does not do.
11. The Forex Institute
The Forex Institute is a group that strives to introduce a higher standard of professionalism into the forex space. With a commitment to providing high-quality signals and technical analysis, this group is one of the better forex signal providers in the space.
They're still a new group and as a result still need to prove themselves, but looking at how quickly they are growing it's an indication that they are a trustworthy group. They post 1-2 signals daily and also offer money management services for those not interested in trading their own money.
This group can certainly be seen to be a reliable group for those looking for the best forex signals in the space.
12. Forex Reaper
Forex Reaper is a solid channel for both free forex signals and premium forex signals. The free signals that they post is always accompanied with clear trading instructions letting members know what they need to do when following one of their trades.
They post market updates and insights, something very few other groups do, and in general appear to be very well run. They do post several promotional pieces of content, but it's not too many so it's somewhat ok.
The main criticism of the channel is the lack of frequency when it comes to signals, however, this may be due to the fact the it is the free group and more signals may in fact be posted in their paid forex group.
13. Olymptrade Signals
The immediate first thing to notice about Olymptrade are the charts and trade setup that the team posts. Each chart is well-explained and clear in intentions with regards to which pair to trade and how to trade it. Although no free signals are posted by this group, they do frequently post the profit that was made as a result of the signal.
With that being said, they could do with posting significantly more educational material in order to introduce diversity into the type of content that the group posts.
14. SSJ Forex Signals
SSJ Forex Signals is a group that purely focus on volume of signals, with an estimated 4 to 7 signals being posted per day. However, this volume is a double-edged sword as when posting such a large number of signals on a daily basis, it's only inevitable that the quality will suffer.
In addition, the group does not post that much educational content such as useful charts or trading tips because so much of the team's time is spent looking for signals. However, some members prefer this style as they are able to decide for themselves if or not to follow the signal.
15. Forex in Africa
Forex in Africa is primarily a forex trading signal group whereby traders can meet and share trade ideas. It's geared towards the African trading community and unlike the other channels that appear on this list, does not necessarily provide signals for members to follow.
Instead, traders can share their open positions with each other as well as share information. From that, traders are then able to decide if or not to open positions for themselves. This community feel has the distinct advantage of accelerating learning as traders are required to understand and place trades for themselves instead of relying on a channel to do so.
16. The Black Lions
The Black Lion is a forex trading signal group on Telegram that has the sole aim of making their members money through the provisioning of their own signals. They claim to release an insane 2 to 10 signals per day which on the face of it cannot be sustainable.
They offer very little in the way of free signals, therefore making it impossible to suitably gauge the expected return if you were to join their group. They're a smaller group which is why they appear lower down on this list, however, they do stand the chance of growing into one of the larger groups. Although, in order to do this they need to provide free signals and as well as that, educational material such as chart and trade setups, something the larger groups do without hesitation.
17. Forex Green Pips
The first thing that you notice when joining Forex Green Pips is the sheer amount of promotion that the groups engage in. These promotions, whilst difficult to confirm, if true indicates that the group is able to deliver high-quality signals.
The group releases daily summaries indicating the performance of their premium group making it easy for members to at least gauge what the performance is like. However, despite these stellar performances in the premium group, they offer next to nothing when it comes to free forex signals which in our opinions would be the true judge of the quality of the group.
18. Forex Market Makers
Forex Market Markers is another group whereby traders can come to discuss trade ideas and setups that they are currently targeting for a particular pair. Whilst signals are not necessarily provided by an admin, after a few minutes in the group you begin to get an understanding of what position everyone is currently in.
You won't find much in the way of educational material as after spending sometime in the group that is lacking, but if you're looking for trade ideas or generally other traders to talk to then joining the group certainly wouldn't hurt.
However, it is imperative to be wary of scammers who pose as channel admins of other groups in order to part you with your money in exchange for offering absolutely nothing of value.
19. Authentic FX – Academy
Another forex signal group instead of a channel, Authentic FX is probably the best well-run forex group that we came across. Instead of the usual free for all that tends to happen in these groups, there is an admin who tries to structure and steer the conversation to be as productive as possible.
Again, expect very little when it comes to free signals, but expect a lot more when it comes to discussing trade ideas and setups that others are in. Sometimes all it takes is one insight from a member in the group to spark off the idea for your next best trade.
20. Forex Signal Pro
Forex Signal Pro is one of the bigger groups in the space with close to 200k members in their channel, however, a large part of this number will undoubtedly be fake due to the relatively low number of views each of their posts receive.
They appear on this list due to the free signals that they post and from what we've seen, these signals do go on to hit the take-profit target. However, they're appearing last due to the possibility of fake channel members and also the lack of educational content. The channel is mainly filled with promotional content and the occasional free signals.
Conclusion
This comprehensive list of the top forex trading signal channels and groups on telegram should help you find the group that's right for you so that you can start trading forex. Following signals can be an incredibly lucrative opportunity, but only if you select the best group to follow!
This article should arm you with more information about forex so that you know what key things you should look for when deciding to join a forex signals group and also some red flags you should watch out for. Check out our complete beginner's guide to forex trading signals if you're hungry to learn more about forex.