5 Daily Forex Signals Groups in 2023
With the crypto winter dragging on, forex signals are booming in popularity as a means of generating additional income for many individuals around the world. The best way to successful trade forex is by receiving daily forex signals from an experiences trader.
The concept behind daily forex signals is simple — a group of expert traders research what forex pair to buy, and then release a trade for their members follow.
The immediate benefit of this model is outsourcing the time and expertise required to be a profitable trader to somebody else. Most of the best trading groups require members to pay a small fee in exchange for their expert signals, which can be a very worthwhile investment if you choose a reputable daily forex signal provider.
It's also worth noting that in order to make consistent returns, you'll need to receive a consistent flow of trade signals — it's ideal to receive high-quality signals everyday. That's why in this article, we're going to take a look at the best traders who provide daily forex signals.
However, before we take a look at some of the top forex groups, let's see exactly what forex signals are and how you can use them to turn a profit.
How Can I Get Daily Forex Signals?
Daily forex signals groups predominantly operate in telegram groups with a large number of members. When the  provider is ready to issue a trade, they will send out a notification that looks like this: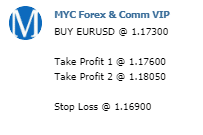 The call tells you, what forex pair to buy, if to go long or short, and lastly, the take profit targets plus stop loss target.
If you have a good provider that knows what they're doing, then you should hopefully make an excellent return:

While there are other ways for trade providers to share their traders with members, Telegram tends to be one of the easiest platforms for users, and therefore one of the most common. The ability to auto-follow trade is a big part of that. You don't need to sit around waiting for a signal, and hoping you can act fast enough to get in and out at the right targets — the auto-follow bots take care of that for you.
Hopefully, you now have a better idea of how these daily forex signals providers work and how if you follow a good one, how financially positive it can be. But now with that out of the way, let's get into our list of the top daily forex signals groups.
1. MYC Forex & Commodities Signals (@MYC Signals)
MYC Signals is a top group when it comes to releasing forex signals on a daily basis. This group places a focus on generating consistent returns whilst at the same time minimizing losses. This allows joiners to understand the amount of returns they can expect to make as a result of being a member of their group.
However, they don't just provide daily forex signals, they also provide signals for commodities such as oil and gold, something that very few other groups offer. This combination of both forex and commodity signals means that their members get a lot more value.
In addition, the group also posts daily market and technical analysis updates so their members fully understand the decision behind every trade so they themselves can become better traders. Furthermore, their signals can be followed using common brokers and platforms such as IC Markets and Oanda.
If you want to join their group and begin your journey of generating income from their forex and commodity signals, then here's how you can get started with them:
1) If you have telegram be sure to reach out to the admin, @MYCSupportBot, as well as to join their free forex signal group, MYC Forex & Commodities. In this group, you will receive completely free forex and commodity signals so you can see the quality for yourself. Alternatively, if you don't have Telegram, feel free to contact them via email: [email protected] and they'll walk you through how to get started.
2) They offer their premium channel: MYC Forex & Commodities VIP for you to join. The membership can be paid via any cryptocurrency of your choice or via card over at their payments page.
3) Once you're all signed up and you're a premium member, they'll work with you to make sure you can follow their signals as easily as possible, as well as to solve any problems you may have. They tout 24/7 customer service so regardless of which time zone you live in, you can be sure that you'll get a prompt response.
2. 1000pip bBuilder
With a proven track record of over a decade, 1000pip Builder has amassed a dedicated following of users who have found success in their forex trades. They are known for providing a substantial number of forex signals, averaging 5-7 signals per day.
As the top-rated forex signal provider on Trustpilot, 1000pip Builder has built a reputation for reliability and customer satisfaction. Their signals are available throughout the day, catering to users worldwide.
A standout feature of 1000pip Builder is their commitment to comprehensive support. Upon joining, users receive the necessary information to effectively utilize the signals, including direct access to an experienced trader for guidance.
While 1000pip Builder offers a trading plan designed to deliver consistent results, it is important to note that their full range of signals requires a paid subscription. Limited free offerings may limit the ability to fully evaluate their services for themselves before signing up.
3. ForexSignals.io
Consider ForexSignals.io as your reliable and profitable choice for forex trading. This unique signal channel stands out as one of the most sophisticated platforms for forex market participants.
ForexSignals.io offers both a free and a paid channel. The free channel provides basic trading tips on currency pairs and occasional trading reports from their VIP group. While it can be a valuable resource for beginner traders researching the forex market, it may not offer the complexity and depth of professional daily signals and comprehensive market reports. Instead it's more of a funnel to their paid channel — in fact you won't receive daily forex signals in the free channel, you'll have to sign up for the paid channel to get daily signals.
For traders seeking professional-grade signals and in-depth market analysis, the premium version of ForexSignals.io is the ideal choice. Priced at £79 per month or £499 for lifetime access, the premium version has garnered thousands of positive reviews from satisfied clients who believe it is worth the investment.
4. Pips Alert
Pips Alert is a well-known forex signals provider that caters to traders with two distinct strategies. The first strategy, Venture X, focuses on achieving steady long-term gains with a target of 1.5-3.5k pips in monthly profits. On the other hand, the Investor X Signals strategy takes a shorter-term approach to forex trading.
Both plans offered by Pips Alert provide members with an impressive 15-20 forex signals per week, all available at a reasonable cost of $59.95 per month. One standout feature of Pips Alert is their 14-day moneyback guarantee, allowing new customers ample time to evaluate whether the provider aligns with their specific trading objectives.
While Pips Alert does not offer free forex signals, they do provide added value to their members through a complimentary forex course, complete with 40 training videos. This educational resource aims to further enhance traders' skills and knowledge in the forex market.
5. Wolfx Signals
Wolfx Signals specializes in providing trade signals for both crypto and forex markets. Members of this provider can enjoy the advantage of receiving 3-5 signals daily. Each signal is accompanied by a specified limit and stop-loss price to manage risk effectively. Moreover, Wolfx Signals offers three take-profit prices to cater to varying risk appetites among its members.
What sets Wolfx Signals apart is its coverage of three major regional time zones: Asia, Europe, and the US. This ensures that traders have access to signals that align with their preferred trading sessions. The forex signal plan operates on a flexible month-by-month basis, allowing members the freedom to subscribe without long-term commitments. The cost for this plan is $89 per month. Additionally, Wolfx Signals offers separate plans for crypto futures and spot trading, both priced at $89 per month. For traders interested in combining both futures and spot trading, there is a combined plan available at $139 per month.
While Wolfx Signals claims an impressive success rate of 90-95%, it is important to note that these claims are not independently verified. Members receive signals through the Telegram channel, ensuring convenient and timely delivery.
Conclusion
The use of daily forex signals by traders to increase their potential returns is becoming more and more popular. This combined with a reliable forex signals provider can result in you being able to generate very consistent and reliable returns.
There are a wide variety of forex signal groups to choose from, and we have introduced you to some of the best forex signals groups that are currently out there. Make sure to do plenty of research before joining a group, and happy trading!