5 Best Daily Crypto Signals Groups on Telegram
The most common way most people get to know about cryptocurrency is through Bitcoin's price action. We can all remember the amount of buzz that Bitcoin generated when it almost hit the $20,000 mark at the end of 2017. The volatility of Bitcoin is great for traders, as the potential returns that can be made are much higher than in traditional asset classes such as stocks and bonds. However, the unpredictable nature of Bitcoin's price movements means that it can be very difficult to trade, as you pretty much have to be paying attention to trading charts 24/7. Because of this we are seeing the emergence of daily crypto signals on telegram, which are groups of knowledgeable and experienced traders that will tell you exactly when to trade.
The main benefit of these daily signals groups is that knowledgeable traders will dedicate all of their time to spotting profitable trade opportunities, which means that you don't have to. This is very attractive, because these groups could potentially allow you to grow your money passively.
If you don't quite know what crypto trading signals are, then let's quickly run through exactly what they are.
What are Daily Crypto Signals?
First of all, crypto signals are simply a set of trading instructions that are sent to you that will tell you exactly when to buy or sell a particular cryptocurrency. You can have different crypto signals groups on telegram that will trade different cryptocurrencies. For example, there are a lot of bitcoin signals groups on telegram that you can join.
Daily crypto signals are trading signals that are sent out every day. Different signals groups will be different in how many signals they send out per week, so it's important that you ask before joining any signal group.
Daily crypto signals will usually be sent out in the following format:
Cryptocurrency – you will be told which cryptocurrency to buy. As I mentioned before, signal groups will send out signals for a variety of cryptocurrencies, for example, Ethereum signals.
Buy – you will be told at what price you should buy the cryptocurrency (known as the entry price).
Sell – you will also be told when to sell your cryptocurrency to make a profit (known as the take-profit target).
Stop Loss – you should also be told the price at which you should set your stop loss in case the trade goes against you. This will help to reduce any losses.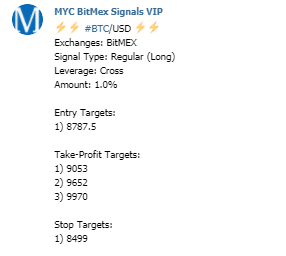 If we take a look at the image above, we can see what daily crypto signals will like. The signal also gives us additional information, for example, the cryptocurrency exchange that you should be placing the trade on and also how much of your funds you should invest in your trade.
Now, hopefully you will join a group that sends out high quality daily crypto signals and you will begin making a consistent profit. If so, you will start getting alerts like the one below. As you can see, these alerts show you the amount of profit that you've made on the trade, and how long it took to hit that profit figure.

Now, my explanation above of crypto signals might look complicated, but in practice it's quite straightforward. A lot of the work is handled by bots on Telegram. For example, the bots allow you to follow trades automatically by simply clicking a button. If you take a look at the image below, we can see this in action. By selecting 'One Click Follow', a trade will automatically be placed on the user's behalf, which is great for simplifying the process of following trade signals.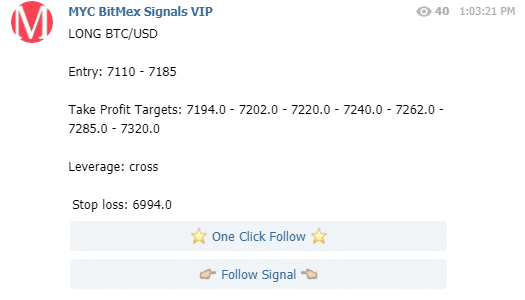 Now that we know what crypto trading signals are, let's take a look at some of the best telegram groups that you can join to receive daily crypto signals to start making money!
Number of Subscribers: 35K
Focus/Description: Provides daily crypto signals on the Binance Futures and BitMex cryptocurrency exchanges, as well as educational crypto trading content.
Approximate Post Rate: 5+ signals per day.
MYC Signals is a crypto trading service that was launched by the well-respected publication, Mycryptopedia.com. MYC Signals focuses on providing high-quality daily crypto signals for the Binance Futures and Bitmex cryptocurrency exchanges.
MYC Signals makes it really straightforward to get started, simply follow the steps below:
1) If you have the Telegram messaging app, then you can get started by reaching out to our admin by sending a message to: @MYCSupportBot to get a flavour of the service that we offer, then you can also join our free crypto signal group, MYC Signals. If you don't have the Telegram messaging app then you can also get started by sending an email to: [email protected]. Once you send an email, a member of the MYC team will walk you through everything you need to know to get setup.
2) MYC signals provide 2 premium channels that you can join to start receiving daily crypto signals: MYC Binance Futures Signals VIP and MYC BitMex Signals VIP. Membership to these groups can be paid via cryptocurrency or card at our payments page.
3) Once you finally become a premium member, the MYC team will help you get setup, so that you can start following our signals and generating passive income. With a 24/7 customer service, the MYC team will always be here to help.
2. Crypto Trades Today (

@CTT

)
Number of Subscribers: 6K

Focus/Description: Issues signals for Binance and BitMex.

Approximate Post Rate: 7+ signals per week.
CCT trading is a new group that provides crypto calls. They just launched their telegram group in 2022, although their trading team has been active for much longer. You'll get fewer signals with CTT, but the signals you get will be the result of careful research. This is something that the CTT team prides themselves on – good signals are better than frequent signals. As such, CTT is quickly making waves as one of the best "bang for the buck" signal providers out there (with subscriptions plans starting at just $80) and a proven track record.
3. Verified Crypto Traders
Number of Subscribers: 40K
Focus/Description: This group mainly focuses on signals for Binance and Bitmex
Approximate Post Rate 0-3 signals per week.
Verified Crypto Traders is another signal provider in the space that you will hear a lot about. Like other groups, Verified Crypto Trades also have a group of dedicated traders who spend their time tracking the market to spot trading opportunities that their members can take advantage of.
4. Yo Crypto
Number of Subscribers: 29K
Focus/Description: BitMex signals
Approximate Post Rate: 0-3 signals per week.
Yo Crypto is another well-respected signal provider in the space. They are a solid group that more often than not produce consistent returns for their members. Yo Crypto adopt a lot less technical style when it comes to trading, so keep that in mind.
5. WhaleTank
Number of Subscribers: 21K
Focus/Description: very focused on technical analysis as well as providing signals for Binance and BitMex.
Approximate Post Rate: 0-3 signals per week.
Of course, we couldn't finish this list off without giving the team over at WhaleTank the final spot. WhaleTank have been around for a long time and have been providing solid returns for their members. WhaleTank also utilize technical analysis to spot trading opportunities.
Conclusion
That concludes our list of the 5 best daily crypto signals group on telegram. Each group of course has their own unique strengths, so make sure to do your due diligence to see which group suits your trading style the best.