Best Bitcoin Copy Trading Groups
I've been invested in crypto — especially Bitcoin — for some time now, but only recently did I decide that I wanted to start trading my Bitcoin. Whether you believe the crypto market will bounce back or not, one of the best and most lucrative things you can do in the meantime, is trade your crypto.
So that's what I've decided to do… only instead of trying to trade my Bitcoin alone, I decided to sign up for Bitcoin copy signals so that I could benefit from the experience of traders who have been trading Bitcoin for much, much longer than I had. And what I learned is that whether you are a complete novice or and experienced bitcoin trader, you'll benefit from joining a bitcoin copy trading group.
Bitcoin trading has attracted massive popularity. Many individuals are looking for alternative income sources; however, they lack the knowledge and experience required to trade Bitcoin, not to mention the time to learn and do it well. This was exactly my situation when I first started out.
Signing up to follow the trade signals from a professional was a great option for me, and I was excited to dive right in. However, I quickly learned how important it was to properly vet any so-called expert who offers signal services to new traders — the crypto market market is full of scams, and Bitcoin is certainly no exception.
I needed to familiarize myself with the groups offering the best Bitcoin copy trading signals and then choose the group with the best track record, especially in an unpredictable marked.
So in this article I'm going to share my experience of singing up for Bitcoin copy signals with you, and in particular, I'm going to rank what I found to be the 5 best Bitcoin copy trading signals groups with you so that you can save yourself the effort of having to do all the research on these groups yourself.
But first, let'e review the basics of both Bitcoin and copy trading for any new traders…
What is Bitcoin?
Bitcoin is a digital currency that is used as a medium of exchange for goods and services. A mysterious individual or group created Bitcoin under the pseudonym, Satoshi Nakamoto.
Bitcoin is considered the king of the crypto world. One of the reasons for this is that it was the first-ever digital currency, created in 2009.
Since it is a digital currency, it does not exist physically, and the technology exists in a public ledger system known as the blockchain. That being said, you cannot touch, feel, or buy it like other fiat currencies. The technology behind the transactions while exchanging crypto requires a considerable quantity of computing energy.
One of the reasons Bitcoin and many other cryptocurrency has gained so much popularity is that digital currencies are decentralized. Decentralization means that they are not controlled or cannot be manipulated by a government or banking system.
At the time of writing this article, Bitcoin ranked 1st on CoinMarketCap with a market capitalization of approximately $383,214,528,875 and a daily trading volume of $49,554,663,446 is (values in USD).
What is copy trading?
As the word says, copy trading is copying someone else's trades through an automated or manual system, like Cornix. In an automated system, the leading trader would link their account to the other traders in the network. For manual copy trading, you would take signals provided by a signal group and place the trades manually in your account.
There are many crypto exchanges and brokers that offer copy trading as an additional feature. All that would be required is to open an account and to link to the person from whom you intend to copy trade. The broker or exchange would have the technological infrastructure to connect accounts to execute the trades manually.
Copy trading has become a popular choice, especially for those new to Bitcoin trading since it can be a daunting market. The concept of social trading further promotes copy trading.
By now you should have noticed that copy trading allows you to leverage the skills of an experienced trader for your own benefit. This is not only allowed, it is encouraged. And it gives you a chance to profit from the market even if you are a beginner.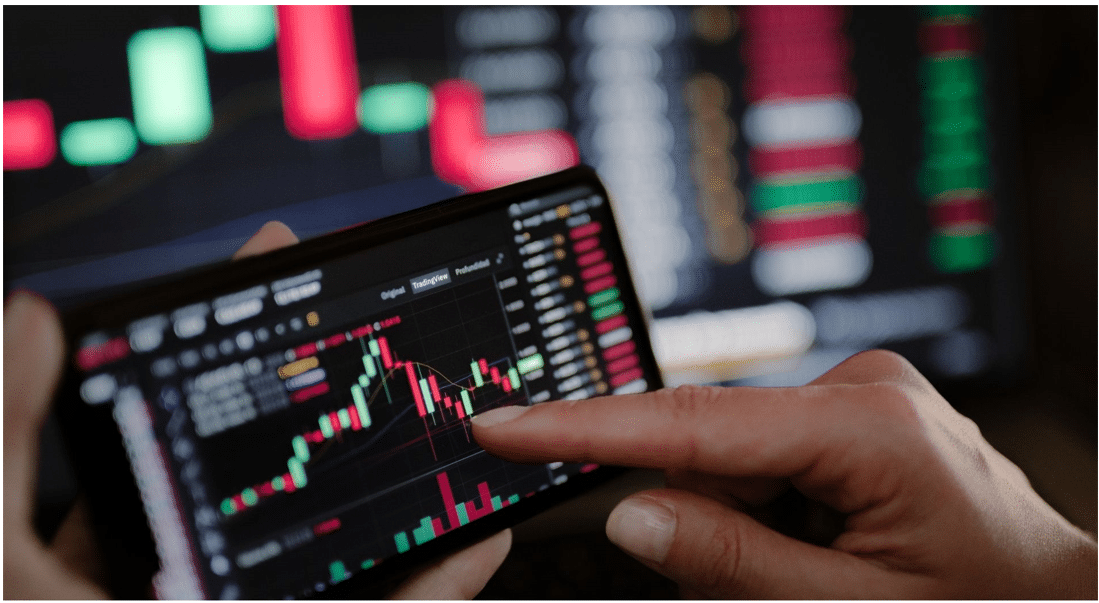 By now you should have a basic understanding of what Bitcoin copy trading is and how it can benefit you. If you are interested in learning more about how copy trading works in other markets, check out my article on the best forex copy trading groups. In the meantime, read on to see my ranking of the top 5 Bitcoin copy trading groups.
Top 5 Bitcoin Copy Trading Groups
Now what you've been waiting for, my rankings and reviews of the five best Bitcoin copy trading groups on Telegram…
MYC is a team of expert traders and has been a leader in the industry for more than four years. The team provide Bitcoin copy trade signals via their Telegram community and Premium groups.
Furthermore,  the following exchanges: Binance futures, Bybit crypto, Deribit, Binance, BitMEX, KuCoin, Bittrex, and Huobi support their bitcoin crypto trading. They have a community of over 35,000 and a Premium group of 900+ members.
They offer 50-70 signals per month, generated by a pro team of traders. MYC signals provide through the different exchanges, the automated trading feature.
The group also offers customer support 24 hours, seven days a week.
MYC offers monthly, 3-monthly, and lifetime signals subscription packages. In addition, MYC offers an all-inclusive discount package, also structured for monthly, 3-monthly, and lifetime packages. You can also use the Cornix bot to follow trades automatically, which we highly recommend.
Included in the packages are swing trading, long positions only, and spot signals. Leverage is customized as per the price plan that you choose. Signals start from 1-2 on the monthly spot trading package, with up to five signals per week on the BTC futures package.
Pricing is structured according to BTC-only Spot, BTC+Alt spot and BTC Futures.
Monthly
BTC-only spot – $60
BTC+Alt spot – $120
BTC Futures – $150
3-Monthly
BTC-only spot – $150
BTC+Alt spot – $300
BTC Futures – $400
Lifetime
BTC-only spot – $700
BTC+Alt spot – $1500
BTC Futures – $1800
MYC also offers a trading course in cryptocurrencies. The course is designed to enable you to make $100 of passive income monthly. The cost is $50 once-off, and some of the topics covered in the course are:
How to trade cryptocurrencies using profitable trading strategies
How to use technical analysis tools and chart patterns
Risk management
How to use support and resistance
2. Crypto Trades Today (

@CTT

)
CTT consists of one of the largest trading teams we've come across. Each of their traders has a demonstrated track record of success, and by having more traders on their team, each trader is able to take their time and carefully research and plan out each trade. The result is that with CTT you'll get a steady stream of top notch signals.
What's equally impressive is that they offer some of the most affordable subscription prices out there. 
You'll also get a slice of their wisdom through their free public channel, where they provide constant news on the crypto space, golden insights through technical analysis and crypto terms, and "spoken from experience" quotes that will surely elevate you as a person and as a trader.
They use Telegram as a communication platform and only offer one channel at this time, though they are planning to offer more in the coming months.
The group uses the Bitmex and Binance futures exchanges to support their trading.
CTT structures their pricing in five plans: monthly, 3-month, 6-month, 12-month, and lifetime. All packages include ALT/BTC signals, weekly updates, and are trading bot ready.
CTT has priced their plans as follows:
1-month – $80

3-monthly – $140

6-monthly – $270

12-months – $500

Lifetime – $700
3. 4C Trading
4C Trading consists of a team of 15 traders and has numerous years of experience. They have a group exceeding 8000 members. 4C trading has developed a trading bot that is integrated with the Telegram platform.
They offer monthly and annual subscription packages: Beginner, Advanced, and Expert.
Monthly packages include market analysis, Chart support, Smart bots, and a 7-day trial.
4C Traders Smart bot is compatible with Bitcoin auto trading. Annual packages have the same benefits but at a lower monthly rate.
Monthly packages:
Beginner – $59
Advanced – $139
Expert – $179
If you subscribe to the annual package, your monthly payment is slightly less per package.
Annual packages:
Beginner – $48
Advanced – $112
Expert – $144
Other offers from 4C trading are an affiliate referral service whereby you can earn a commission from referring friends to sign up with the group.


4. Whale Tank
They consist of a team of pro traders from Europe and Israel. WhaleTank's benefits include advice based on quantitative and qualitative research, online presence to assist clients, and security of funds integrated with Telegram.
The WhaleTank team operates their copy trading service via the Telegram platform. They have 21000+ members in their free channel and over 629 premium members.
WhaleTank has four pricing plans: Plankton, Shrimp, Shark, and Whaletank. Plankton is a lifetime free package, which gives you access to free signals, customer support, essential website support and access to the public channel.
Shrimp, Shark, and Whaletank offer access to the premium channel, premium signals, Whaletank auto trades, and premium customer support.
Packages pricing are as follows:
Plankton free
Shrimp is a 3-monthly plan – 01 Bitcoin
Shark 6-monthly – 02 Bitcoin
Whaletank lifetime – 0.07 Bitcoin
5. Mike Crypto Signals
The only group that doesn't own a website, all communication is done via the Telegram platform. Their service has been available since 2017.
They have two premium channels, spot trading and futures trading. They use the Binance and Binance futures exchanges to support their trades. Their price plans are structured according to monthly, 3-monthly, annual, and lifetime.
Premium service includes full access to their market analysis and signals. Spot channels receive 20-30  signals per month. In the Futures channel, you can receive  50-60 monthly signals. They also use the Cornix bot to auto-follow signals. They offer a 24/7 chat service for consulting and support. Furthermore, they support English and Spanish languages.
Pricing is as follows:
1-Month subscription – 250$
3-months subscription – 550$
Annual subscription – 1500$
Lifetime subscription – 2250$
Pros and Cons of copy trading
Like any form of investing or trading, there are upsides and downsides since the financial markets, crypto included, are unpredictable. Before ending my review, I feel it's important to share the pros and cons for you to consider.
Pros
No technical analysis is required.
When you participate in copy trading, you are not required to perform any technical market analysis.
Copy-trading can be highly profitable if you copy a trader/group with excellent performance history.
You don't have to deal with the emotional distress from trading since the leading trader makes all the decisions, allowing you to trade in a relaxed mood.
Copy trading doesn't require you to sit in front of the charts and monitor the market anxiously. You will have more time to do other things.
Cons
Since you rely on someone else's trading strategies and decisions, you do not control how the signal is generated.
Bad traders can cost you.
If you copy from a trader with a poor performance history, you risk losing your funds. Some traders take high risks, which, if your capital is insufficient, can cost you dearly.
Final Thoughts
Copy trading, especially bitcoin copy trading, is gaining interest. However, it's important to consider the pros and cons carefully before embarking on this journey, as with any form of trading and investing. During the process of conducting my reviews, I came across literally hundreds of signal groups claiming huge success rates and impressive wins, many of which were complete scams. So it's important to conduct thorough research and read reviews before signing up and paying money to receive signals.
Ultimately, the benefits will outweigh the losses if you choose the right group wisely. As a beginner trader, I found it incredibly helpful to subscribe to a copy trading service as I grew my knowledge, confidence, and experience to trade the market on my own. Many services, like MYC signals, have a free telegram channel where you can test the waters before you commit to a purchase, which I found particularly helpful.
The five groups that I've have reviewed are the top-rated in the industry, and based on your style and risk tolerance, you should consider which is the ideal for you to start using for Bitcoin copy trading.