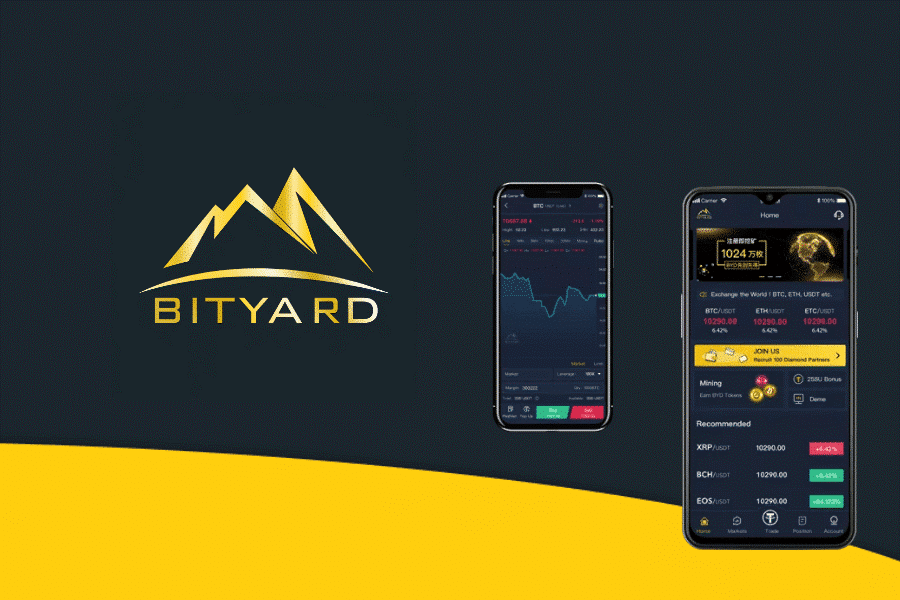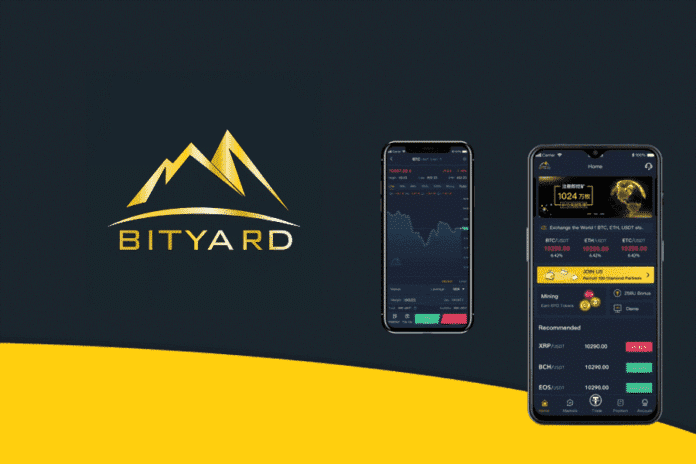 Bityard
Bityard is a leading cryptocurrency contract exchange that has its headquarters in Singapore. The platform offers users in more than 150 countries with a safe, easy, and fast way to trade virtual assets. The exchange adheres to the product concept of "Complex Contracts Simple Trade" and aims to bring the ultimate simplified trading experience to customers. Unlike other top derivatives exchanges that offer complex contracts, Bityard offers simplicity when it comes to trading, making it suitable for new users with limited knowledge on cryptocurrency trading. 
Overview Of Bityard
On the platform, users can buy and sell cryptocurrency contracts using USDT on margins and leverage. The USDT acts as the main trading pair on Bityard and allows users to trade on several major coins including Bitcoin (BTC), Ethereum (ETH), Litecoin (LTC), Bitcoin Cash (BCH), Ripple (XRP), Ethereum Classic (ETC), Tron, EoS, Dash and Link.
Bityard contract trading allows users to hedge market risks with only a small amount of capital and without the need to purchase the actual trading asset. By trading contracts, users can profit from both bull and bear markets and multiply potential profits by using higher leverages. 
The platform has its own coin, the BYD token, which helps users interact with various aspects of the Bityard ecosystem. It has a total supply of 210 million and will soon be listed on major crypto exchanges.  After recently introducing mining activity on the platform, the BYD token is likely to pave the way for an ICO in the near future.
It's important to mention that Bityard is licensed in several countries, including the United States, Australia, Singapore, and Estonia. All the licenses can be seen on the official website. 
In this guide, we will go over different aspects of the Bityard exchange for the convenience of all the platform's users. We will touch on Bityard's core features, functionalities, and how one can navigate through the platform.
Below we are going to cover how to use Bityard crypto exchange. The topics include; 
Overview Of Bityard

How to sign up for Bityard Cryptocurrency Exchange

Bityard Trading Dashboard

Mobile App

Order Types

Margin

How To navigate Deposits And Withdrawals On Bityard

Fees To expect

Advantages Of Bityard

Customer Support

Security

Promotions

Bityard Affiliate

Conclusion
Tradable Currencies: Bitcoin (BTC), Ethereum (ETH), Litecoin (LTC), Bitcoin Cash (BCH), Ripple (XRP), Ethereum Classic (ETC), Tron, EoS, Dash and Link. All these coins are tradable against USDT.
How to sign up for Bityard Cryptocurrency Exchange
To get started on Bityard exchange, you have to visit the platform's official website at bityard.com. Then click on the "Get Started" icon, where you will be taken to a page with two options to register on the platform. The first one is email registration, and the other is mobile registration.

In our case, we opted for the mobile registration since it's easier. We advise using the mobile phone to access the website, and once you enter your phone number, a verification code will be sent that you will enter before setting your password and clicking on "Register." For email registration, enter a valid email address, swipe the verification page, and you will receive a verification code that you should enter and solve a simple puzzle. Enter your password and click on register. Your account will get registered immediately, and you will be taken to the dashboard. 
Once signed in, proceed to secure your account by clicking on the icon marked on the image below and selecting account security. You will find the option to set a pin that is required for withdrawal verification. You will see the option to set email verification to on, however, this isn't necessary if you signed up using your mobile number. 

The next step is verifying your account to be allowed to deposit, trade, and withdraw on the platform. You can choose either a passport or an identity card for this process. Whichever you choose, follow the steps listed by providing your real name, ID number, uploading a photo of both sides of the ID, and a picture of you holding the ID next to your face and then click "Confirm."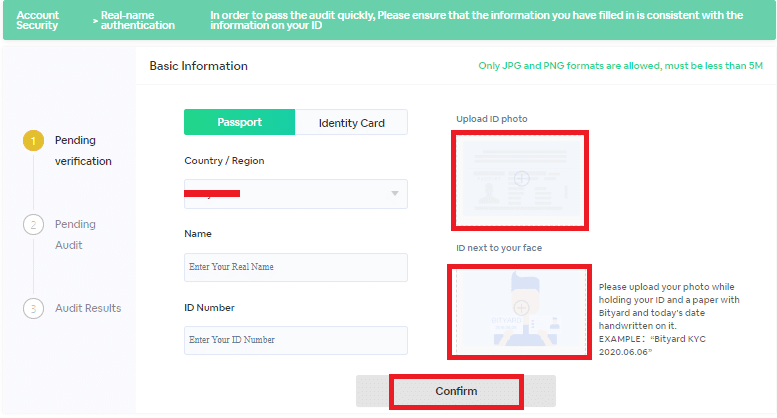 The next step is depositing on the platform. On the top bar click on "Assets," a drop-down menu will appear. Proceed to select "Deposit." This will take you to a page where you will see the available options for depositing, including USDT, BTC, ETH, TRX, and EOS. 
Once done with depositing, you can begin trading.
Bityard Trading Dashboard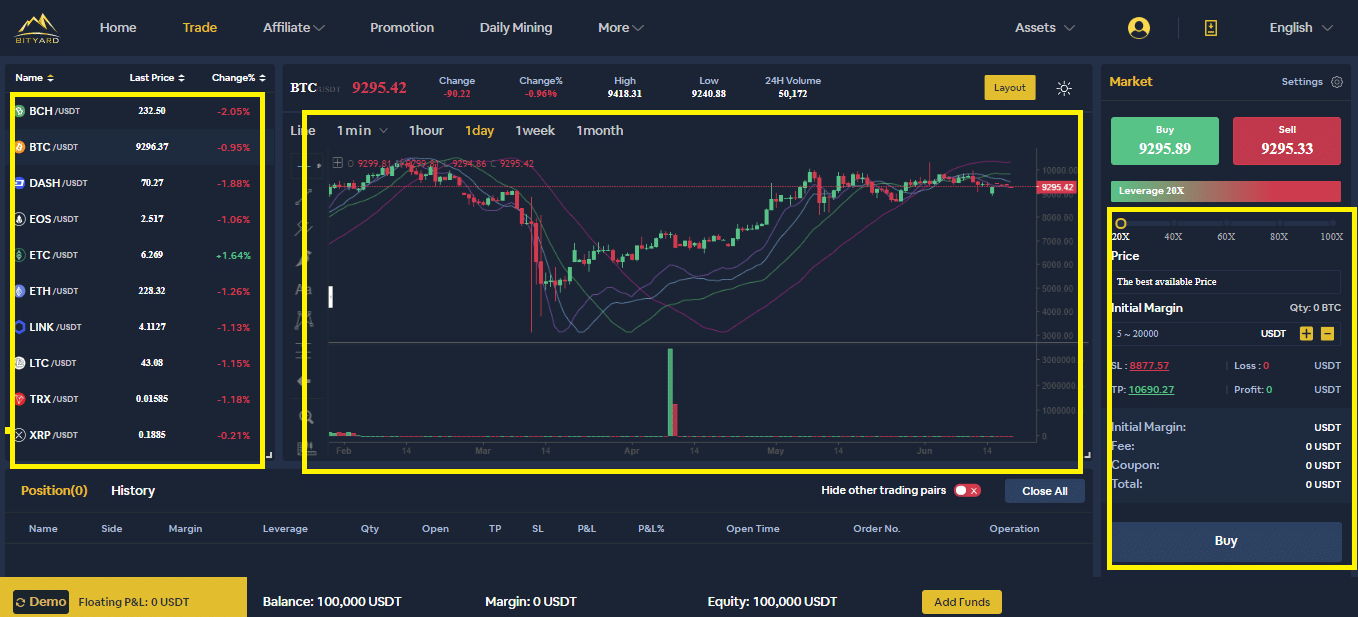 Once logged in, proceed to click on "Trade" on the top bar, and you will be taken to a very simple interface that is easy to navigate even for beginners. You will see all the available options that can be traded against the USDT. You will also see the price of the coin, the 24-hour change, percentage change, highest and lowest value achieved in 24H, and the volume within the period. Below you can see the line chart with 1 min, 1 hour, 1 day, 1 week, and 1-month candlesticks. On the bottom left, you will see a yellow icon that allows you to switch between live and demo trading. 
As a beginner, it's advisable, to begin with the demo version to familiarize yourself with the platform. For the demo, you will be awarded 100,000 USDT. On the right side of the dashboard, you will see a box where you can place your trade (buy or sell ) by setting how much leverage you want, increase your initial margin and set stop loss and take profit targets. 
On the right top corner, you will see a settings tab that allows you to set take profit and stop ratio and a few other options.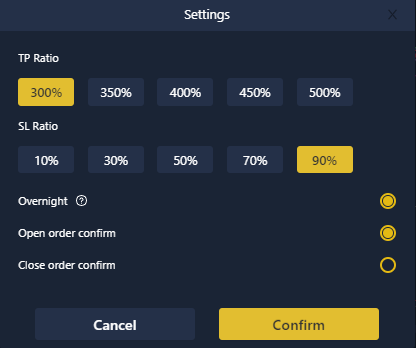 Once you have everything set, a Bitcoin contract will appear below the Buy tab, which you can take a closer look at to see the details of the contract.
Also, on the top bar, there is a "More" tab with a detailed explanation of contracts and FAQs, which you can refer to if anything isn't clear. With everything set now, it's time to place the trade by clicking on the "Buy" tab, select confirm, and your order will be placed.
Mobile App
In case you find yourself away from your PC, then there is no need to worry since Bityard has a mobile app that can be accessed from the Google play store for android users or APP Store for iPhone users. On the app, you can pull up charts, place trades, and even monitor positions.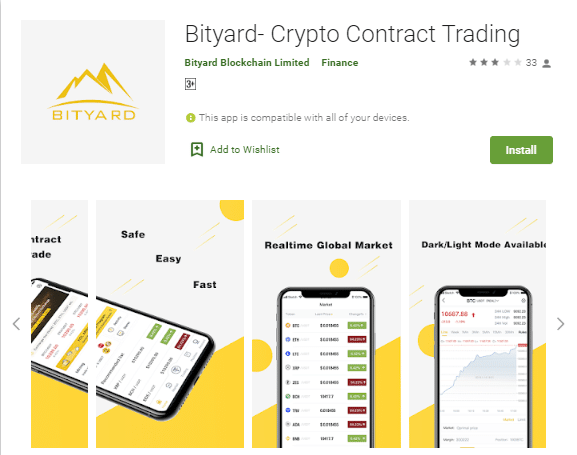 However, we found a few complaints online from users of the app based on functionality issues; therefore we believe the company has some improvements to make on this app if it is to offer convenient services for its users like the web version.
Order Types
There are two order types on Bityard; that is Market order that allows one to place an order at the exact market rate and the limit order where you place an order that will be executed once the price reaches the mark.
Margin
The margin and leverage you take will depend on the size of your trade. You can adjust the margin down for some of the larger trades just to manage risk at the exchange. Take your time to check out the individual margin limits for various coins to get an idea. Below are margin limits for BTC on the platform.

We also have to mention that on the platform, you won't get liquidated since the system has an isolated margin, which means the margin you set aside for the trade will be kept separate from the rest of your trading positions. This is contrary to the other exchanges that have "cross margin," where the margin can be adjusted across various different positions.
How To navigate Deposits And Withdrawals On Bityard
Bityard Deposit 
On the top bar, click on Assets, proceed to the deposit section where you will be taken to a section with all the deposit options, as we mentioned above. For every deposit made, you will be provided with a unique QR code to scan and a deposit address. Ensure you enter the correct wallet address and avoid depositing any other digital assets except for the coin specified in the above address. 
The minimum deposits are; 15 USDT, 0.002 BTC, 0.05 ETH, 500 TRX, 100 XRP, and 5 EOS. It's important to note that when depositing XRP, there is a tag provided, and if you omit it, you will lose your funds. For EOS deposits, there is a memo provided and will be required to deposit the coin. EOS deposits take place after one network confirmation. 
Bityard Withdrawals
Withdrawals on the platform can only be made in Tether (USDT). The fee usually is $2, and the minimum withdrawal amount is $50. So, before withdrawing, you need at least $52 in your account. The maximum withdrawal limit is 100,000 USDT. Also, one needs to bind their email before they are allowed to withdraw. The process is quite simple and straight forward. Select the "withdraw" option on the top bar under "Assets" and then choose the type of Tether address you want to withdraw to. To avoid losing your funds, ensure you select the correct address. 
Fees To expect
Bityard recently adjusted its trading fees from 0.075% to 0.05% and even changed the formula for calculating the fees. If you need to know how much fees you are going to pay on the platform you can use the following formula;
For opening fee = margin*leverage*0.05%
For closing fee= margin*leverage*0.05%
The platform will pre-deduct the opening and closing fee (0.05%) only when opening a position, and none will be charged when closing a position.
On the platform, there is also an overnight fee charged for any position that is held over 12 hours and closing after SGT 05:55:00. The formula for this is;
Overnight fee=margin*leverage*0.045%*days
Fees for comparison:
Below is a table that shows how Bityard compares against other top competitors. At 0.05%, the exchange's transaction fees are way below those of its competitors who offer 0.075%. You will also notice that the other platforms don't support fiat deposits, which is an added bonus for Bityard. With 10 tradable asset options, Bityard outperforms the other exchanges. 
How Bityard compares to other competing platforms:
Platform

Bitmex

Bybit

Deribit

Bityard

Headquarters

Seychelles

Singapore

Panama

Singapore

License

Securities Dealer License

Financial Services Comission

MTR

AUSTRAC,

ACRA,

MTR,

FinCEN

 

Transaction fee

0.075%

0.075%

0.075%

0.05%

(The mining reward can be deducted by another 10%)

Fiat deposit?

No

No

No

Yes

Supported deposit currency

Only 1

BTC

5

BTC、ETH、EOS、XRP、USDT

2

BTC、ETH

7

BTC、ETH、XRP、USDT、TRX、HT、LINK

Minimum Margin

1 USDT

5 USDT

0.1 BTC / 1 ETH

5.00 USDT

No. Of Assets Options

8

4

2

10

Demo mode

Yes

Yes

Yes

Yes

Forced liquidation?

Yes

No

No

No

Max. withdrawal

None

10 BTC

None with KYC

100,000USDT

KYC?

No

No

Withdrawals > 1BTC

No

Leverage

1-100x

1-100x

1-100x

10-100x

Customer Support

Email, Telegram

Email, Online customer

Email

Email,Telegram,Online customer

Brand Ambassadors

None

None

None

Buakaw Banchamek
Advantages Of Bityard
The platform offers competitive fees.

There is low entry since users can trade for as little as 5 USDT and up to 20,000 USDT.

The platform boasts fair and transparent prices through K-line weighted average, which utilizes data from 3 major crypto exchanges, i.e., Binance (30%), Huobi (30%), and OKEx (40%) to ensure it displays the most accurate crypto prices.

The platform supports OTC deposits.

Users get free BYD after registering and activating their accounts.

Celebrities endorse the platform. Currently, Thai boxing champion Buakaw Banchamek is the brand ambassador of the exchange. 

Bityard offers OTC services for buying USDT with low trading fees that cater to first time traders and institutions.

It supports deposits in 7 mainstream virtual currencies, unlike any other contract exchange.
Customer Support
As a trader, you want convenience while trading, and if you run into some problems, you need assurance, you can get the necessary help quickly. During our research, we tested various modes of communication with the customer support team and found the platform excellent on every level. The quickest way to reach the support is through their live chat function, which pops on the bottom side of the dashboard on the far right. 
Once you engage the support, you will receive an immediate response and be connected to an agent that will help you out. You can also reach out to the platform through email at [email protected], and they will get back to you. Also, there is the option of reach out to the platform through social media through Twitter, Facebook, and Telegram.
Most importantly, if your queries are more routine, you can seek answers on their FAQ section, which has detailed answers on various aspects related to the exchange.
Security
In our research, we found security on Bityard to be top-notch. The platform employs cold storage to protect user funds away from malicious actors. The majority of the funds are stored offline, and a small portion that is used to pay withdrawals and take deposits is stored in hot wallets on the exchange. As for market risk, the platform lacks an insurance fund. However, it does conduct real-time risk auditing and has risk management tools for monitoring market positions and exposure.
Communication on the platform is also safe since the exchange employs SSL encryption. It's easy to identify a safe website by checking for a secure padlock on the URL link.
If you ever find yourself on a site without the padlock, it means you are on a phishing site that will steal your personal data, and you need to get out of there fast. 
On the user side, there are several steps to secure your account, including the use of two-factor authentication, binding your phone where you receive a code via SMS whenever you login. You can also set a pin that allows you to withdraw from the platform.
Promotions
When it comes to promotions, Bityard has plenty of rewards, especially for beginners. The full list can be seen below and can be accessed from the dashboard once logged in by clicking on "Promotion" on the top bar.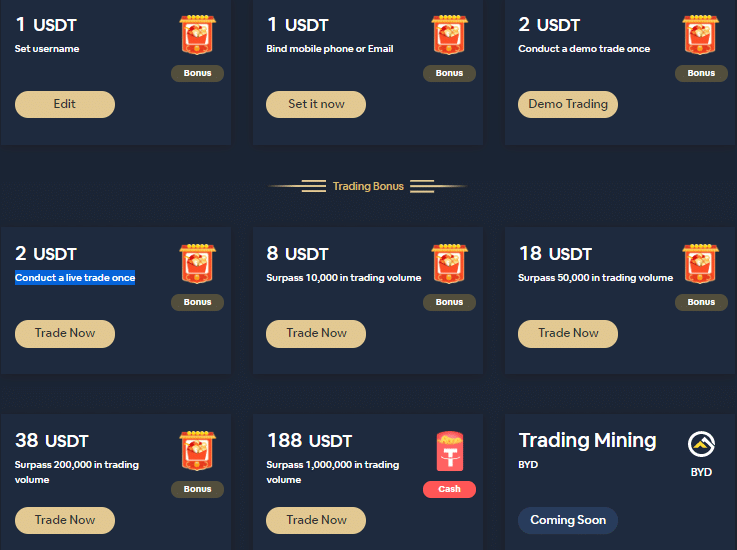 There is 1 USDT offered for setting the username and another one for linking your account with either mobile or email address. As we mentioned, when starting, you need to familiarize yourself with the platform using the demo account. Incredibly, you get 2 USDT for conducting a demo trade once.
Also, there are trading bonuses. You get 2 USDT for conducting a live trade once, 8 USDT when you surpass 10,000 in trading volume, 18 USDT for exceeding 50,000 in trading volume, 38 USDT for surpassing 200,000 and 188 USDT for surpassing 1,000,000 in trading volume. 
When you create a new account, you get the chance to earn their proprietary BYD token. Bityard issues the token, and it's used to access the various aspects of the exchange, just like BNB for Binance. It has a total supply of 210 million, and once you activate your account, you get 6 BYD as a bonus.
Another exciting thing about this platform is its daily mining activity. Bityard allows users to conduct daily mining where they offer free coins that can be mined over their mining page. All you need to do is bind your email to the account and click on them to begin mining. 
However, there are several rules you have to be aware of when using the gift coins or money. 
Bityard Affiliate 
The exchange also has an affiliate program that allows users to earn commissions by referring friends to the platform. That involves a link that you can share with all your friends on various social media platforms. The referral program is quite lucrative, with users earning up to 60% of commission on all trading fees from the traders they refer to.
The complete list of commissions can be seen below.

Apart from the earning potential on the platform, as an affiliate, you get dedicated 1 on 1 support as well as real-time settlement of commissions. The exchange provides its affiliates with a multidimensional report that offers an overview of what one's referral stats look like.
Conclusion
We found Bityard to be a great platform that simplifies complicated instruments for traders of all skill levels offering an excellent trading experience with no slippage and liquidations. The platform is also entirely secure and regulated, which inspires confidence among users. It provides industry-leading rewards and also has excellent customer support who are always at hand to help out. One thing we feel the platform can improve on is the mobile app, which according to user reviews, has a few functionality issues. Other than that, we found this platform excellent, especially for beginners, and can rival any other contracts exchange for the title of the best exchange in the category.