5 Best Kucoin Signals Groups On Telegram
There are numerous cryptocurrency exchanges in the industry, and Kucoin is one of the largest, allowing traders to buy and sell tons of crypto pairs. Before I rank the best groups providing Kucoin signals on Telegram, let me share a bit more background on Kucoin and crypto trading signals.
Headquartered in Singapore, Kucoin is a well-trusted platform for cryptocurrency trading, with an active trading community in the millions. With these traders competing amongst each other to generate returns, we are seeing the emergence of Kucoin signals groups on telegram as one way to gain an edge over the competition.
The important advantage of joining a Kucoin signals group on telegram is that these groups are managed by experienced and knowledgeable traders that will tell you exactly when you should be buying and selling (i.e. they will release crypto signals) crypto to maximize your profits. These traders dedicate all of their time to analyzing charts so that they can spot profitable trading opportunities so that you don't have to. If you are able to join a reliable Kucoin signals group on telegram that can consistently generate profits, then you will be able to grow your money passively.
Now, you might not know exactly what crypto trading signals are, so here's a quick overview.
What are Kucoin Signals?
Very straightforward, Kucoin signals are simply a set of instructions that are sent to you telling you exactly when to buy and sell a cryptocurrency on the Kucoin crypto exchange. For example, Kucoin signals groups on telegram work by telling you when to buy and sell Bitcoin.
Kucoin signals will usually be sent in the following format:
Cryptocurrency – the signal will let you know which cryptocurrency to buy e.g. Bitcoin. There will be Kucoin signals that will release signals for other cryptocurrencies such as Ethereum.
Buy – the signal will of course tell you at what price you should buy the cryptocurrency.
Sell – you will also be told when to sell your cryptocurrency, so that you can lock in some gains.
Stop Loss – Kucoin signals will also usually specify a stop loss, so that losses can be mitigated if the trade goes the wrong way.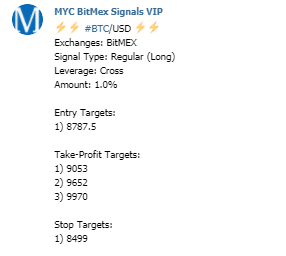 Kucoin signals will often usually also have additional information such as the exchange that the signal is intended for, which in this case would be Kucoin, and also the amount of your funds that you should be using in the trade.
Once you're set up in the Kucoin signal group on telegram, you will begin to receive signals. If you have managed to join a reliable Kucoin signals group, you will begin to receive profit notifications like the image shown below. These profit notifications let you know the amount of money that you have made on the trade and the length of time it took to make that money.

Now, all this might appear complicated at first, but it really isn't! Most of the work that comes with following Kucoin signals is handled automatically by bots on Telegram. This is convenient for you because it will allow you to be able to follow Kucoin signals automatically.
OK! Now that we've gone through what Kucoin signals are, let's take a look at some of the best telegram groups that you should be joining so that you can start receiving consistent and profitable Kucoin signals.
Number of Subscribers: 35K
Focus/Description: Provides Kucoin signals and also educational content on cryptocurrency trading
Approximate Post Rate: 5+ signals per day
MYC Signals is a Kucoin signals service that was launched by the well-known cryptocurrency publication, Mycryptopedia.com. MYC Signals has a singular focus on providing high-quality crypto trading signals for Kucoin.
To get started with MYC Signals, just follow these steps:
1) If you have telegram then be sure to reach out to the admin, @MYCSupportBot, as well as to join their free crypto signal group, MYC Signals. Alternatively, if you don't have Telegram, feel free to contact them via email: [email protected] and they'll walk you through how to get started.
2) They offer their premium channel: Kucoin Signals VIP for you to join. The membership can be paid via any cryptocurrency of your choice or via card over at their payments page.
3) Once you're all signed up and you're a premium member, they'll work with you to make sure you can follow their signals as easily as possible, as well as to solve any problems you may have. They tout 24/7 customer service so regardless of which time zone you live in, you can be sure that you'll get a prompt response.
2. Crypto Trades Today (

@CTT

)
Number of Subscribers: 6K

Approximate Post Rate: 7+ signals per week
Crypto Trades Today is another well-known group in the signals space that provides Kucoin signals. Like other groups, they have a dedicated team of traders that analyse the market to spot trading opportunities. You'll get fewer signals with CTT, but the signals you get will be the result of careful research. This is something that the CTT team prides themselves on, and they firmly believe that good signals are better than frequent signals. As such, CTT is quickly making waves as one of the best "bang for the buck" signal providers out there (with subscriptions plans starting at just $80) and a proven track record. 
They also keep their members updated on the happenings of events in the crypto-space by providing fresh crypto news, as well as education (crypto terms) and inspiration (quotes).  We also love their technical analysis for its balance and neutrality.
3. 4C Trading
Number of Subscribers: 8K
Approximate Post Rate: 0-3 signals per week
4C trading is another group that specializes in crypto signals. They are one of the more reliable groups out there when it comes to this niche. They do post signals that do produce decent results for their customers.
4. Mega Crypto World
Number of Subscribers: 15K
Approximate Post Rate: 0-3 signals per week
Certainly, one of the larger provides of Kucoin signals in the space, Mega Crypto World is a well-known brand when it comes to crypto signals. Signals released by this group tends to take a lot longer to get hit (sometimes 5 months), which we don't really recommend. So, take this into account when it comes to deciding which group to join.
5. Yo Crypto
Number of Subscribers: 29K
Approximate Post Rate: 0-3 signals per week
Yo Crypto is another robust signal group to check out. Their goal is to generate returns for their members on a consistent basis. The group's trading style is a little less technical when it comes to placing trades, so keep this in mind.
Conclusion
That concludes our list of the 5 best Kucoin signals groups on Telegram. Each group has their own key strengths, so make sure to do your own research to figure out which group is the best for you!